Ricciardo savours 'crazy' Chinese GP victory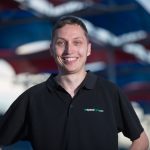 Daniel Ricciardo has paid tribute to his Red Bull team for a decisive strategy call that helped him surge to an unlikely victory in a 'crazy' finish to the Chinese Grand Prix.
The Australian made the most of the team's decision to pit both cars for fresh rubber under a lap 31 Safety Car, which proved pivotal in helping Ricciardo leapfrog from sixth to first in the closing stages.
Boosted by the free rubber, Ricciardo produced a series of stunning overtakes on Lewis Hamilton (Mercedes), Sebastian Vettel (Ferrari) and Valtteri Bottas (Mercedes) to set up his sixth career win.
The victory arrives after what had been a frustrating weekend hampered by an engine failure in final practice that saw him only make Q1 with three minutes to spare.
Ricciardo was quick to praise his team for its decisive strategy and for enabling him to qualify sixth on Saturday.
"It was decisive, winning moves from the team. Thanks a lot," said Ricciardo.
"After yesterday I thought I would be starting from the back.
"The team were rewarded for getting out in qualifying but this is the best reward possible so I'm super happy for the mechanics.
"I don't know where that came from.
"Obviously with the Safety Car and go in for the softs, the team double stopped the cars and that obviously gave us a good little bit of grip, but we didn't think it would last that long but the tyres were holding up well.
"We had wicked pace on the tyres, that was fun.
"Once I was aware that we had the pace obviously I wasn't going to let that slip.
"I feel like every win I've had has been in a similar circumstance, so it was crazy and a lot of fun."
Ricciardo once again showed his overtaking prowess in the closing stages and thoroughly enjoyed completing moves on his rivals.
"Sometimes you've got to lick the stamp and send it," he said, when asked about his dive down the inside of Hamilton into the turn 14 hairpin.
"So there we go. I enjoyed it very much.
"Obviously we had the soft tyre so I knew I could get a little bit more out of the braking than them. A lot of time you get one chance to try, so I made the most of every opportunity."
The win could not have arrived at a better time for the 28-year-old currently out of contract at Red Bull come the end of the season.
Ricciardo has maintained that a decision regarding his 2019 future would be made once the championship heads to Europe and admits today's triumph won't hurt his prospects.
The Perth driver has been linked to rival teams Mercedes and Ferrari.
"I guess the plan was to try and hold off a little bit. Obviously a win is nice but the performance (of the cars) we don't really know," he added.
"We had really strong pace there but when we get to Europe it will start to balance itself out.
"All three teams have had their moments so far, this season is interesting.
"I don't think today hurt my position, so it's a good day."