Opportunistic Ricciardo scores Chinese GP win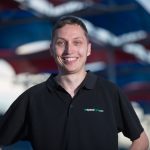 Daniel Ricciardo made the most of an inspired Red Bull strategy sparked by a late Safety Car to win the Chinese Grand Prix following a frantic run to the flag.
The Red Bull driver held sixth for the majority of the 56 lap encounter before the race was turned on its head when the Safety Car was deployed on lap 31.
Toro Rosso's Pierre Gasly tapped team-mate Brendon Hartley into a spin, leaving debris on the track at Turn 14.
Red Bull elected to fit fresh soft tyres to both Ricciardo and Verstappen while Ferrari and Mercedes chose to hold station for the remaining 15 laps when racing resumed.
As a result, the Red Bulls surged up the order initially led by Verstappen, who was fourth behind Valtteri Bottas (Mercedes), Sebastian Vettel (Ferrari) and Lewis Hamilton (Mercedes).
Ricciardo soon passed Raikkonen before taking advantage of a mistake from Verstappen as he ran wide as he attempted to pass Hamilton.
He quickly pulled off a series of slick overtakes on Hamilton, Vettel and then Bottas for the lead at Turn 5 on lap 45, before going on to score an unlikely sixth career race win from sixth on the grid.
Bottas managed to hold on to second while Raikkonen leapt from sixth to third in the final laps.
The Finn was aided by another error from Verstappen, who spun early race leader and polesitter Vettel at Turn 14 on lap 43.
Verstappen crossed the line in fourth but was handed a 10-second penalty for punting Vettel into a spin, which saw him classified in fifth.
Hamilton appeared to struggle throughout the race and in particular on worn tyres in the final laps to finish fourth.
Championship leader Vettel limped home in eighth after losing positions to Renault's Nico Hulkenberg and McLaren's Fernando Alonso.
Vettel had made no mistakes at the start as he blocked the advances of his team-mate Raikkonen to hold the lead into Turn 1.
The German's move did however halt Raikkonen which allowed Bottas to leapfrog the Ferrari into second while a fast starting ultra soft shod Red Bull of Verstappen followed suit later on the opening lap.
Meanwhile, Hamilton dropped a position to fifth ahead of Ricciardo.
Vettel quickly opened up a comfortable lead over Bottas as the top six soon became strung out having broke away from the rest of the field.
A stalemate between the top six was eventually broken by Red Bull who prompted the first round of stops when they brought Verstappen and Ricciardo in on lap 18 to switch from ultrasofts to medium rubber.
This triggered Bottas to dive into the pits to perform an undercut on leader Vettel.
Ferrari were caught off-guard as Vettel rejoined behind Bottas after he took service, while Raikkonen stayed out.
After losing the lead, Raikkonen was used to back up Bottas into Vettel before he eventually took his pit stop.
However, while the move closed the gap between the top two it proved to no avail as a late Safety Car saw Red Bull use a two-stop strategy to help guide Ricciardo to victory.
Renault's Carlos Sainz and Haas F1's Kevin Magnussen rounded out the top 10.
New Zealand's Hartley was forced to retire from the race after the clash with Gasly that saw the Frenchman pick up a 10-second time penalty for causing the crash.
Vettel now holds an 11 point lead over Hamilton as the championship heads to Azerbaijan for Round 4 from April 27-29.
Result: Formula 1 Chinese Grand Prix
| Position | Driver | Car | Laps | Gap |
| --- | --- | --- | --- | --- |
| 1 | Daniel Ricciardo | Red Bull/Renault | 56 | 1h35m36.380s |
| 2 | Valtteri Bottas | Mercedes | 56 | 8.894s |
| 3 | Kimi Raikkonen | Ferrari | 56 | 9.637s |
| 4 | Lewis Hamilton | Mercedes | 56 | 16.985s |
| 5 | Max Verstappen | Red Bull/Renault | 56 | 20.436s |
| 6 | Nico Hulkenberg | Renault | 56 | 21.052s |
| 7 | Sebastian Vettel | Ferrari | 56 | 30.639s |
| 8 | Fernando Alonso | McLaren/Renault | 56 | 35.286s |
| 9 | Carlos Sainz | Renault | 56 | 35.763s |
| 10 | Kevin Magnussen | Haas/Ferrari | 56 | 39.594s |
| 11 | Esteban Ocon | Force India/Mercedes | 56 | 44.050s |
| 12 | Sergio Perez | Force India/Mercedes | 56 | 44.725s |
| 13 | Stoffel Vandoorne | McLaren/Renault | 56 | 49.373s |
| 14 | Lance Stroll | Williams/Mercedes | 56 | 55.490s |
| 15 | Sergey Sirotkin | Williams/Mercedes | 56 | 58.241s |
| 16 | Marcus Ericsson | Sauber/Ferrari | 56 | 1m02.604s |
| 17 | Romain Grosjean | Haas/Ferrari | 56 | 1m05.296s |
| 18 | Pierre Gasly | Toro Rosso/Honda | 56 | 1m06.330s |
| 19 | Charles Leclerc | Sauber/Ferrari | 56 | 1m19.066s |
| 20 | Brendon Hartley | Toro Rosso/Honda | 51 | Not running |
Championship Standings
| Position | Driver | Points |
| --- | --- | --- |
| 1 | Sebastian Vettel | 54 |
| 2 | Lewis Hamilton | 45 |
| 3 | Valtteri Bottas | 40 |
| 4 | Daniel Ricciardo | 37 |
| 5 | Kimi Raikkonen | 30 |
| 6 | Fernando Alonso | 22 |
| 7 | Nico Hulkenberg | 22 |
| 8 | Max Verstappen | 18 |
| 9 | Pierre Gasly | 12 |
| 10 | Kevin Magnussen | 11 |
| 11 | Stoffel Vandoorne | 6 |
| 12 | Carlos Sainz | 3 |
| 13 | Marcus Ericsson | 2 |
| 14 | Esteban Ocon | 1 |
| 15 | Sergio Perez | 0 |
| 16 | Charles Leclerc | 0 |
| 17 | Romain Grosjean | 0 |
| 18 | Lance Stroll | 0 |
| 19 | Sergey Sirotkin | 0 |
| 20 | Brendon Hartley | 0 |
| Position | Constructor | Points |
| --- | --- | --- |
| 1 | Mercedes | 85 |
| 2 | Ferrari | 84 |
| 3 | Red Bull/Renault | 55 |
| 4 | McLaren/Renault | 28 |
| 5 | Renault | 25 |
| 6 | Toro Rosso/Honda | 12 |
| 7 | Haas/Ferrari | 11 |
| 8 | Sauber/Ferrari | 2 |
| 9 | Force India/Mercedes | 1 |
| 10 | Williams/Mercedes | 0 |