Hamilton had 'no pace' in China GP 'disaster'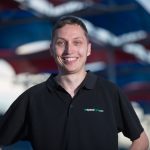 Lewis Hamilton says he faces a tough battle ahead after admitting his side of the Mercedes garage is underperforming following a 'disaster' of a Chinese Grand Prix.
The reigning world champion could only finish fourth after lacklustre showing in Shanghai having been out-performed by his team-mate Valtteri Bottas in both qualifying and the race.
Hamilton dropped a position on the start and spent much the opening stint behind Ferrari's Kimi Raikkonen in fifth spot, unable to make any inroads on the lead group.
He was fortunate to finish fourth after being passed by both Red Bulls of race winner Daniel Ricciardo and Max Verstappen in the closing stages.
A time penalty for Verstappen, who tangled with Sebastian Vettel in the final laps, elevated the Brit to fourth.
However, Hamilton believes both he and the team are underperforming having failed to score a victory in the first three races of the season.
"I was in no man's land. I had no pace. I was just trying to hold on for whatever I had," said Hamilton.
"Obviously we've got a tough battle ahead of us, particularly on my side. I'll say my side, but also us as a team, we've been underperforming.
"Yesterday and today have been a disaster on my side, so I've got to try and rectify that and get myself back into normal performance mode. Otherwise more valuable points will be lost.
"I'm thankful for a couple of incidents that happened ahead today, kept us kind of in the battle."
Mercedes boss Toto Wolff echoed Hamilton's sentiments on the team's current deficit to Ferrari.
"The whole weekend we were just not good enough," Wolff told Sky Sports F1.
"This weekend we were probably third-fourth, when you look at the result today. And we don't want to be third-fourth.
"We just need to get our act together."
Hamilton's team-mate Bottas had been leading the race when green flags flew after a late Safety Car, having made use of an undercut at the first stop to pass early leader Vettel.
However, Wolff conceded that the team should have followed Red Bull by calling its drivers to pit under the Safety Car.
"I think that Valtteri would have deserved to win the race. He had a great day, great driving," Wolff added.
"But the luck has been going against us in these first couple of races, and today again. We had a Safety Car at the wrong moment.
"It shakes everything up and the two Red Bulls were bold enough to pit for tyres.
"We thought track position was more important. We got it wrong, they got it right, and they deserved to win."