Ricciardo thankful to qualify sixth after 'herculean' repair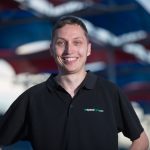 Daniel Ricciardo has praised the effort of the Red Bull team to repair his car in time to compete in qualifying for the Chinese Grand Prix.
The Australian suffered a suspected turbo failure in Practice 3 which necessitated an engine change on the #3 RB14 with a little over two hours before the 60 minute qualifying session.
Matters were made worse when the team did not have access to a complete Renault power unit to make a straight swap.
Components from two engines were required to complete the switch which was finished with three minutes remaining in Q1.
Ricciardo had only enough time to log one flying lap which was good enough to see him through to Q2, before going on to secure sixth on the grid.
"We just got out there and we didn't have time to mess around really," said Ricciardo.
"Sixth on the grid, it's sixth, it's whatever, but the mechanics should be celebrating. They did a great job.
"What happened this morning is out of the mechanics' hands. It's not because they didn't do a bolt up — but then all the pressure's on them to do an engine change in two hours.
"(I'm) thankful I've got a good crew and we got out there. Sixth is certainly better than being 20th and at the back."
Red Bull boss Christian Horner labelled the job from the mechanics as 'herculean' as both sides of the garage were required to complete the repair.
"Getting the engine turned around — and there was quite a lot of work in getting the engine dressed and onto the car as well — was just herculean," said Horner.
"To see Max Verstappen's mechanics as well, diving in where and when they could as well, that's what being a team is all about.
"That was the biggest result of qualifying for us today, achieving that feat."
Ricciardo will start Sunday's race using the faster but less durable ultrasoft tyres while Ferrari and Mercedes, which locked out the front two rows, will use the softs.
The decision should give the five-time grand prix winner an advantage off the line as he targets a first podium finish of the season.
"Ferrari's had really good pace all weekend. I can't honestly say now we're going to have their pace tomorrow but Mercedes is within reach," Ricciardo added.
"In my mind there's still a spot on the podium up for grabs so we'll try and aim for that."
The Chinese Grand Prix is scheduled to start at 1610 AEST.