Ricciardo encouraged as Red Bull closes on rivals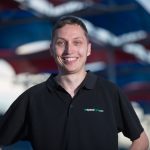 Daniel Ricciardo believes Red Bull can challenge Ferrari and Mercedes in the Bahrain Grand Prix after an encouraging performance in qualifying.
The Australian will start the second race of the season from fourth on the grid as the Red Bull man closed the deficit to the top two teams.
After ending qualifying almost a second shy of pole in Australia, the five-time grand prix winner is confident Ferrari and Mercedes are within reach at the Sakhir circuit.
Ricciardo clocked the fifth fastest time in qualifying in Bahrain but will start from the second row by virtue of Lewis Hamilton's five-place grid drop, that sees the Brit demoted to ninth on the grid.
"In a way it was closer than expected," Ricciardo told Sky Sports F1.
"I think to pole it was maybe four tenths or something, that's encouraging. But it's still frustrating to be at the tail end of that.
"The lap, there were bits and pieces, probably a tenth left on the table but I don't think there was more than that to get myself further up the grid. I think Lewis still had a couple of tenths on me.
"Frustratingly close but encouraging that there are no big gaps. To have the top five separated by 0.4s is pretty cool for F1.
"I'm always excited for the race.
"Our race pace yesterday didn't look bad but I think our car in second practice wasn't as good as it was in FP1 or what it is now.
"I believe our car will be even better than we showed yesterday (Friday) and hopefully it puts us in the fight."
It proved to be a mixed day however for Red Bull as team-mate Max Verstappen crashed out of Q1 which will see him start from 15th position.
The Dutchman blamed the spin at Turn 2 on a sudden power surge from the RB14 that caught him off-guard.
"It was unfortunate," said Verstappen.
"I studied the data a bit and saw we had a 150hp increase, which is a bit odd.
"The corner isn't flat out, but it was like an on and off switch. It spun up the rear tyres quite aggressively and then I spun.
"I didn't anticipate it at all. With 150hp extra, suddenly it went and when you are already on the limit it is quite a lot."
The Bahrain Grand Prix is scheduled to begin at 0110 AEST on Monday.