Phillip Island panel upgrade for MSR, Milwaukee Racing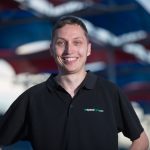 Single car Ford squads Matt Stone Racing and Milwaukee Racing will have to wait until Phillip Island to upgrade their cars with composite panels.
A tight turn around between the Australian Grand Prix and the Tyrepower Tasmania SuperSprint, coupled with the unexpected change of panels has forced the teams to delay upgrades to their Falcon FGXs.
Fellow Blue Oval operations Tickford Racing and Shell V-Power Racing debuted new carbon bonnets and roofs at Albert Park to combat the new composite panel shod ZB Commodore, after receiving the green light from Supercars.
Not all cars ran the components with two bonnets and two roofs shared between the six cars, while Nissan Motorsport also received clearance to run composite roofs on all four of its Altimas.
Further down the pit lane, Matt Stone Racing and Milwaukee Racing were unaware of the change of panels from their rivals until too late and are now playing catch up.
Both squads have placed orders with Tickford Racing for roofs and will construct their own bonnets, which will be ready in time for the Phillip Island 500 from April 20-22.
However, it has come as an extra unexpected expense for the smaller squads.
"I think it was a bit of error that the ZB car was allowed to be constructed in a different way to what we have already been running," team owner Matt Stone told Speedcafe.com.
"We have to do it (upgrade) to be competitive so we have put our orders in.
"Without prior warning from Supercars, we are behind the eight ball, and it won't be until Phillip Island before we get our car with those carbon panels on it."
Milwaukee Racing team owner Phil Munday doesn't expect the cost of the upgrades to be that extreme and has acknowledged that rapid changes in motorsport are inevitable.
"We will definitely run a roof and hopefully we will have bonnet for Phillip Island," Munday told Speedcafe.com.
"It is just progression. I guess there is lots of stuff I didn't budget for this year.
"You have just got to make it work and hopefully the changes will give us a little bit more of a gain.
"I'm happy to go along with what we need to do. We make a lot of composites here (at the workshop) already so we will make bonnets, but we won't make the roofs, I'm hoping we won't need too many of those.
"The issue for us is the timing to put the roof on.
"With there being such a quick turnaround this week for Tassie, we will now do it between the Tasmania and Phillip Island rounds and we will do the bonnet before the Island as well."
The two squads will now head to Symmons Plains for the Tyrepower Tasmania SuperSprint from April 6-8.