Seamer: Supercars has great platform to build F1 links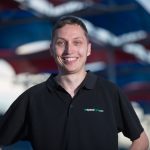 Supercars CEO Sean Seamer believes the category has a 'great' platform to build on its relationship with Formula 1 following a successful maiden championship round at the Australian Grand Prix.
The new Supercars boss is keen to forge strong links with F1 as the category looks to expand into the Asian market with a race at the Singapore Grand Prix among the options for the series in the future.
Discussion regarding Singapore have continued after Seamer met with F1 commercial boss Sean Bratches and representatives from the Singapore Grand Prix at Albert Park last week.
Speedcafe.com understands a deal is yet to be reached although talks are ongoing between both parties.
Seamer has already indicated that the championship is not interested in agreements for one-off races.
The show Supercars put on at the Australian Grand Prix would only gone to help talks with the championship boss labelling Saturday's Race 5 as one of the best the category has ever produced.
"Supercars had a great weekend at the AGP," Seamer told Speedcafe.com.
"Our teams and drivers delivered brilliant door to door racing, as they always do. The race on Saturday is sure to be a classic in the history of the sport.
"It is a great platform on which to build our relationship with the AGP and F1."
Supercars drivers have already expressed their support for a future championship round at the Singapore Grand Prix with Craig Lowndes describing the venue as a 'perfect fit' for the championship.
Singapore is one of several possible options for Supercars' expansion into Asia which include Malaysia (Sepang International Circuit), Thailand, China and Indonesia.
The Supercars Championship's last visit to Asia came in 2015 when five cars were sent to compete in demonstration races at the now defunct KL City Grand Prix in Kuala Lumpur, Malaysia, as a precursor to a planned championship round at the location.