Reynolds underlines title bid with best ever Supercars start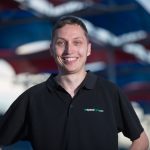 David Reynolds says his best start to a Supercars season has further underlined the Erebus Motorsport driver's title credentials this year.
Reynolds sits second in the championship after six races following a victory in Race 6 at the Coates Hire Melbourne 400 at Albert Park on Sunday.
He declared himself a title contender following fourth and second place finishes at the season opening Adelaide 500 and believes his team is right in the hunt.
The Albury-born driver admits the win salvaged a 'pretty disappointing weekend' which saw the him finish seventh, 12th and 14th in the previous three races.
"We're trying to set high goals for everyone to achieve," said Reynolds.
"If you aim for 10th, you're only looking at 10th. We aim to be in the hunt and that's what we're doing.
"It's been the best start of any year I've had. To be second (at this stage) in the championship is the furthest I've been by eight spots or something.
"I tell everyone I wake up about six months into the championship and go 'boom' for the last six months. So technically, I'm still sleeping.
"Every time we roll out we try our best and try to engineer our way to the front.
"I try and drive it the best I can, but sometimes I mess that up.
"My weekend overall up until today was pretty disappointing.
"We were (qualified) sixth, eighth, ninth and second. We raced seventh, 12th, 14th and first. If I didn't win today (Sunday) it would have been a pretty average weekend."
While Reynolds is enjoying his fast start to the campaign, he admits there are areas in which Erebus Motorsport needs to improve to sustain its title aspirations.
"We've still got areas we need to work in, but generally our pit stops let us down this weekend," he added.
"As a team they do perfect pit stops when they have to do fuel times, but when we ask them to do a four or five second wheel change completely, we haven't practiced enough.
"Everyone has different techniques, we need to standardise everything, practice it and hone it down."
Reynolds has been boosted by the arrival of talented young gun Anton De Pasquale, who has quickly adapted to the cut and thrust of the Supercars Championship.
The former Dunlop Super2 Series driver remains the top rookie in this year's championship standings after another impressive showing Albert Park, finishing inside the top 15 in two of the four races.
"There are definitely a lot more positives than negatives to take from this weekend," said De Pasquale.
"We showed really good qualifying speed in all four sessions, we still have a straight car and have learnt a lot to take into the next one."