Opening lap flat spot ruined Hartley's AGP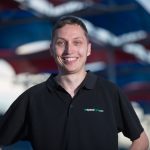 A severely flat spotted tyre dashed Brendon Hartley's hopes of scoring his maiden Formula 1 point before the first turn of the Australian Grand Prix.
The Toro Rosso driver was forced to make an unscheduled pit stop on the opening lap after he suffered a huge lock-up on the run to first corner from the start.
Hartley, who started from 16th on the grid, described the flat spot as the biggest he has encountered in his career.
The stop put the New Zealander on the back foot before his circumstances worsened due to a puncture in his second stint.
Hartley reached the finish in 15th position albeit a lap down as the last classified finisher.
"It wasn't a great race for me today, I locked the brakes into Turn 1 at the start and flat spotted the tyres, so I had no choice but to pit because it was probably the biggest flat spot I've ever had," said Hartley.
"Then on the second stint I had a puncture, so it was game over from that point onwards and I think I had a little bit of damage on the rear from that, so I was driving around by myself all day.
"It was always going to be tough to get into the points."
Hartley's team-mate Pierre Gasly retired after 13 laps when he suddenly lost power from his Honda engine.
The championship heads to Bahrain for the second round from April 6-8.