Vettel heads Ferrari one-two at drying Albert Park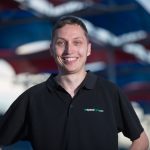 Sebastian Vettel headed a Ferrari one-two in final practice courtesy of a late run on a damp but drying Albert Park circuit.
The session began with a wet track which saw the field initially complete installation laps in the opening 20 minutes as teams adjusted to the tricky conditions.
Conditions improved enough as the session progressed for a late burst on slick tyres which the two Ferraris and Sauber's Marcus Ericsson took advantage of.
Vettel posted a 1:26.067s to jump to the top of the times on the ultrasoft with a 2.4s margin over team-mate Kimi Raikkonen, while Ericsson slotted into third.
Red Bull Racing's Max Verstappen fired in a late effort on intermediates to slot into fourth having been the first driver to significantly lower the benchmark when the surface was much wetter.
He held sway in the early stages until Mercedes' Valtteri Bottas moved to the head of the field but the Finn would slide down the order to seventh at the chequered flag.
Renault's Carlos Sainz Jnr ended up fifth after he benefited from a drier track on intermediate rubber.
The Spaniard was just ahead of Red Bull's Daniel Ricciardo, who ran as high as second earlier in the hour-long season.
Lewis Hamilton was eighth after a session that was interrupted by an issue on his Mercedes.
The four-time world champion was forced to pit where the team elected to change his steering wheel.
McLaren showed pace in the wet conditions as Fernando Alonso briefly topped the times in the greasy conditions.
Team-mate Stoffel Vandoorne was ninth ahead of his more experienced team-mate.
Toro Rosso's Brendon Hartley ended up 12th behind his team-mate Pierre Gasly.
Force India's Esteban Ocon and Sergio Perez did not set a time as the pair completed a solitary installation lap each.
Qualifying is scheduled for 1700 local time/AEDT.
Results: Practice 3
| | | | | | | |
| --- | --- | --- | --- | --- | --- | --- |
| Pos | Num | Driver | Car | Fastest lap | Split | Laps |
| 1 | 5 | Sebastian Vettel | Ferrari | 1:26.067 | | 15 |
| 2 | 7 | Kimi Räikkönen | Ferrari | 1:28.499 | +0:02.432 | 13 |
| 3 | 9 | Marcus Ericsson | Sauber Ferrari | 1:28.890 | +0:02.823 | 14 |
| 4 | 33 | Max Verstappen | Red Bull Racing Tag Heuer | 1:31.680 | +0:05.613 | 8 |
| 5 | 55 | Carlos Sainz | Renault | 1:33.172 | +0:07.105 | 11 |
| 6 | 3 | Daniel Ricciardo | Red Bull Racing Tag Heuer | 1:34.043 | +0:07.976 | 14 |
| 7 | 77 | Valtteri Bottas | Mercedes | 1:34.174 | +0:08.107 | 14 |
| 8 | 44 | Lewis Hamilton | Mercedes | 1:34.225 | +0:08.158 | 7 |
| 9 | 2 | Stoffel Vandoorne | Mclaren Renault | 1:34.233 | +0:08.166 | 15 |
| 10 | 14 | Fernando Alonso | Mclaren Renault | 1:34.298 | +0:08.231 | 13 |
| 11 | 10 | Pierre Gasly | Scuderia Toro Rosso Honda | 1:34.990 | +0:08.923 | 16 |
| 12 | 28 | Brendon Hartley | Scuderia Toro Rosso Honda | 1:35.438 | +0:09.371 | 16 |
| 13 | 35 | Sergey Sirotkin | Williams Mercedes | 1:35.589 | +0:09.522 | 16 |
| 14 | 18 | Lance Stroll | Williams Mercedes | 1:35.828 | +0:09.761 | 8 |
| 15 | 8 | Romain Grosjean | Haas Ferrari | 1:36.171 | +0:10.104 | 6 |
| 16 | 16 | Charles Leclerc | Sauber Ferrari | 1:36.448 | +0:10.381 | 12 |
| 17 | 20 | Kevin Magnussen | Haas Ferrari | 1:36.807 | +0:10.740 | 7 |
| 18 | 27 | Nico Hulkenberg | Renault | 1:38.482 | +0:12.415 | 8 |
| 19 | 31 | Esteban Ocon | Force India Mercedes | | | 1 |
| 20 | 11 | Sergio Perez | Force India Mercedes | | | 1 |