McLaughlin hails 'night and day' push from DJRTP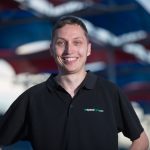 Scott McLaughlin has paid tribute to his Shell V-Power Racing team for working day and night to deliver a stronger package to take the fight to rivals Triple Eight at Albert Park.
McLaughlin chalked up his first race win of the season while team-mate Fabian Coulthard finished third in the opening race of the Coates Hire Supercars Melbourne 400 on Friday.
The success arrived after the reigning teams' champions openly admitted they had plenty of work to do to catch their rivals Triple Eight, who claimed both pole positions and race wins at the Adelaide 500 earlier this month.
McLaughlin says the Holden team's display at Adelaide prompted a significant push from his squad over the last 10 days to be in a position to challenge for victories this weekend.
THE FINAL RACE OF THE 2023 REPCO SUPERCARS CHAMPIONSHIP ON ONE OF THE WORLD'S BEST STREET CIRCUITS. GO ALL IN AT THE VAILO ADELAIDE 500, CLICK HERE TO BUY TICKETS
"I think there's been a rocket in our arse (for) the last sort of 10 days," McLaughlin told Speedcafe.com.
"The guys have actually worked night and day to give me and Fabian better cars and whatever and I can't thank everyone enough.
"There's been a lot of hard work; we had a rethink because the tyres changed obviously.
"What worked last year didn't work this year so we really had to think about it and Ludo's (Lacroix) been absolutely a crazy human in the last few weeks, but I couldn't have a better guy by my side and it's fantastic.
"The hard work behind the scenes and the want to win is very cool but it's early days yet, we've got to win a few more yet.
"But it's really nice as a driver having a team that will work and do leaps and bounds trying to help you succeed and they really enjoy it."
The victory has arrived during a race weekend where Tickford Racing, Shell V-Power Racing and Nissan Motorsport were given the green light by Supercars to run a range of new composite bonnets and roofs on selected cars.
It has proven a divisive factor among the paddock since the ZB Commodore debuted with composite panels at Adelaide.
McLaughlin says suggestions that the new panels have made the difference are unfair.
"It's annoying that people say that it's just the panels and whatever, and you read stuff in the media and you've just got to shrug your shoulders and whatever," he said.
"Like I said, I'm so proud of the guys; our heads were down a little bit after the first race (event) but it was not for want of trying. It's really cool."
McLaughlin revealed the victory was made even more special given it arrived in front of the Formula 1 paddock.
"It's nice, being up there on the podium, hearing that guy that announces your name," said McLaughlin.
"I've watched F1 for a number of years and it's the same dude and it's nice to put a face to the voice, so pretty cool, and the New Zealand flag and anthem, that was special."
While he has become one of the most popular in the Supercars paddock, he admits to have been starstruck this weekend having had the chance to mix with Ferrari F1 stars Sebastian Vettel and Kimi Raikkonen through mutual team sponsor Shell.
He has also thrown his support behind countryman Brendon Hartley, who will embark on his first full season in F1 at Toro Rosso.
"It's cool. Seb and Kimi were really nice guys," he added.
"Probably spoke more to Seb than I did Kimi," he joked,
"I got a cool photo, and you've just got to try and cherish those memories because those guys are absolutely world class drivers and I'm very starstruck.
"I remember when me and Fabs walked through the paddock before practice there and we saw Brendon Hartley and caught up with him, and he's so down to earth and I just hope he goes well.
"It's so cool for New Zealand to have a guy in there, and it is cool to be here on the weekend that they're here and see what's going on, but it is great that they recognise what we do as well."
Supercars will return to the track today for Race 4 and 5 of the series.