Horner: Never seen Ricciardo so angry after grid penalty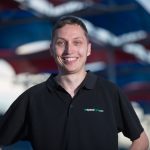 Red Bull Racing Formula 1 boss Christian Horner hopes that Daniel Ricciardo will channel his anger at a grid penalty into extra motivation to perform at the Australian Grand Prix.
Ricciardo was slapped with a three-place grid penalty and two penalty points on his superlicence for failing to slow enough when red flags flew in Friday's Practice 2.
The Australian had actually slowed significantly for the session stoppage, caused by a loose timing cable on the start/finish line, but was still found to have breached sporting regulations.
The five-time grand prix winner labelled the decision as "s***house" while Horner has since revealed that he had never seen his driver so angry.
"I saw a very angry one (Ricciardo) last night, I've never seen him that angry before, and if he needed any extra motivation, he certainly got it," Horner told Sky Sports.
"I don't think he needed any extra, he's pretty pumped up, he's got a big home crowd here, and there's obviously a lot of expectation on him.
"You never know, it might have a reverse effect that it relieves a bit of pressure and you've just got to go for it.
"I think he's largely over it but it's still eating away at him and he's pretty revved up about it."
Horner showed his frustration at the call claiming the sport is perhaps over regulated at times.
"It's tremendously frustrating because unfortunately what's happened is that it's a rule that's been introduced," he added.
"He's obviously marginally committed the offence when that piece of wire came loose and caused the red flag yesterday, but as soon as it's triggered it goes to the stewards, (and) you can only feel that we're a bit over-regulated these days.
"The stewards have got nowhere to go other than the penalties that were available to them, so I don't think they wanted to give him the penalty that they had to, and you can see with the wording of the judgement that they really tried to dilute it as best they could, but it's hard enough for us to understand, let alone explain it to the viewers and the fans."
Ricciardo will start Sunday's Australian Grand Prix from no higher than fourth on the grid.
Qualifying starts from 1700 local time/AEDT.