Merecedes dominates opening AGP practice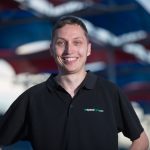 Lewis Hamilton led a Mercedes one-two in the opening practice session of the Formula 1 Australian Grand Prix.
The reigning world champion was more than half a second quicker than his team-mate Valtteri Bottas at the close of the 90 minute session held in bright, sunny conditions at Albert Park.
Hamilton moved to the top of the times with an hour remaining which he held briefly before the Red Bulls of Daniel Ricciardo and Max Verstappen shot to the top of the timesheets.
However, Hamilton grew stronger as the session progressed to log a 1:24.026s benchmark.
Bottas emerged as his nearest rival albeit 0.551s adrift of his team-mate, who set the time on the ultrasoft compound tyre.
Verstappen was third fastest as the upgraded RB14 enjoyed a strong showing, while Ricciardo ended the session in sixth, a second shy of the pace. Red Bull ran ultrasoft and supersoft compounds.
The Ferraris of Kimi Raikkonen and Sebastian Vettel occupied fourth and fifth.
Romain Grosjean was the best of the midfield runners in the Haas F1, ahead of the Renault powered McLaren of Fernando Alonso, who endured a truncated session.
The two-time world champion spent the majority of practice in the garage as the team battled an exhaust issue.
Team-mate Stoffel Vandoorne was also stationed in the garage for some time before logging a time to snatch 10th spot behind the Renault of Carlos Sainz.
Pierre Gasly put the Honda powered Toro Rosso into 11th position ahead of the Williams of Sergey Sirotkin.
The sister Toro Rosso driven by New Zealand's Brendon Hartley finished the session in 18th position.
The outing ended with the drivers forming up on the grid to conduct practice starts to test the new start light formation deployed to allay potential visibility fears, following the introduction of the halo cockpit protection device.
Practice 2 is scheduled for 1600 local time/AEDT.
Results: Practice 1
| | | | | | | |
| --- | --- | --- | --- | --- | --- | --- |
| Pos | Num | Driver | Car | Fastest lap | Split | Laps |
| 1 | 44 | Lewis Hamilton | Mercedes | 1:24.026 | | 27 |
| 2 | 77 | Valtteri Bottas | Mercedes | 1:24.577 | +0:00.551 | 29 |
| 3 | 33 | Max Verstappen | Red Bull Racing Tag Heuer | 1:24.771 | +0:00.745 | 26 |
| 4 | 7 | Kimi Räikkönen | Ferrari | 1:24.875 | +0:00.849 | 23 |
| 5 | 5 | Sebastian Vettel | Ferrari | 1:24.995 | +0:00.969 | 22 |
| 6 | 3 | Daniel Ricciardo | Red Bull Racing Tag Heuer | 1:25.063 | +0:01.037 | 25 |
| 7 | 8 | Romain Grosjean | Haas Ferrari | 1:25.730 | +0:01.704 | 24 |
| 8 | 14 | Fernando Alonso | Mclaren Renault | 1:25.896 | +0:01.870 | 16 |
| 9 | 55 | Carlos Sainz | Renault | 1:25.922 | +0:01.896 | 23 |
| 10 | 2 | Stoffel Vandoorne | Mclaren Renault | 1:26.482 | +0:02.456 | 15 |
| 11 | 10 | Pierre Gasly | Scuderia Toro Rosso Honda | 1:26.494 | +0:02.468 | 25 |
| 12 | 35 | Sergey Sirotkin | Williams Mercedes | 1:26.536 | +0:02.510 | 25 |
| 13 | 27 | Nico Hulkenberg | Renault | 1:26.583 | +0:02.557 | 25 |
| 14 | 31 | Esteban Ocon | Force India Mercedes | 1:26.605 | +0:02.579 | 30 |
| 15 | 18 | Lance Stroll | Williams Mercedes | 1:26.636 | +0:02.610 | 30 |
| 16 | 11 | Sergio Perez | Force India Mercedes | 1:26.767 | +0:02.741 | 26 |
| 17 | 20 | Kevin Magnussen | Haas Ferrari | 1:27.035 | +0:03.009 | 13 |
| 18 | 28 | Brendon Hartley | Scuderia Toro Rosso Honda | 1:27.745 | +0:03.719 | 16 |
| 19 | 9 | Marcus Ericsson | Sauber Ferrari | 1:27.964 | +0:03.938 | 28 |
| 20 | 16 | Charles Leclerc | Sauber Ferrari | 1:28.853 | +0:04.827 | 28 |