Ricciardo eyes breakthrough AGP podium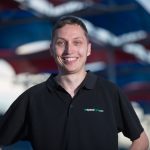 Daniel Ricciardo believes this year's Formula 1 Australian Grand Prix could be the first ever in which a local finishes on the podium.
The Red Bull Racing driver heads into his home race with far brighter prospects after the Milton Keynes squad completed a positive pre-season.
Last year Ricciardo endured a nightmare Australian Grand Prix which was headlined by a crash in qualifying before an electrical failure saw him miss the start. An engine failure then curtailed his day.
The West Australian's best finish at the event was a fourth in 2016 after his second place finish in 2014 was scrubbed due to a fuel flow breach.
His 2016 result equalled the best ever finish for an Australian in a home grand prix.
However, a strong pre-season has the 28-year-old in positive mood for this year's season opener.
"I believe so," said Ricciardo when asked if this could be his most effective Australian Grand Prix.
"We had a good winter. It's all there in front of us now.
"I think we're still the top three teams – Mercedes, Ferrari and us. I think we're still going to be leading the pack for now. So hopefully we'll be deep in that group and have a chance to stand up on the podium.
"Not starting last year wasn't fun at all.
"Last year we missed the anthem on the grid because I was in the garage trying to get the thing going, or be there for when it got going.
"I missed a lot of the Sunday build-up, which was not fun. For sure this preparation is going to mean more fun this weekend and we'll see where that fun takes us."
Reigning world champion Lewis Hamilton has continued to talk up Red Bull's form leading into this year's race and a possible championship challenge, which Ricciardo hopes is correct.
"This is a year which our prep has been good and I really hope Lewis is right that we will have a chance to fight for the title and then that'll ultimately make me very happy," added Ricciardo.
Ricciardo will kick off his Formula 1 Rolex Australian Grand Prix campaign on Friday when opening practice begins at 1200 AEDT.