Supercars drivers back push for Singapore race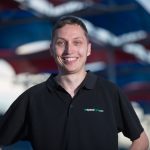 Support is growing for Supercars to secure a deal to race at the Formula 1 Singapore Grand Prix with drivers behind a bid to expand into the Asian market.
A move to join the support bill at the Singapore F1 round from 2019 onwards gathered momentum last year after F1 owners Liberty Media and Supercars reached an agreement to elevate the category's role at the Australian Grand Prix to a championship round, which begins from this year.
Supercars has been keen to explore this new relationship between the categories resulting in former CEO James Warburton holding talks with Singapore GP officials last year.
These talks are due to be picked up again this week at the Australian Grand Prix with new CEO Sean Seamer due to meet F1 owners with the prospect of a deal to race in Singapore on the agenda.
Seamer has already indicated that the championship is not interested in agreements for one-off races.
Singapore is one of several possible options for Supercars' expansion into Asia which include Malaysia (Sepang International Circuit), Thailand, China and Indonesia.
Supercars fan favourite Craig Lowndes is among a group of drivers in favour for the move having previously experienced the Singapore Grand Prix from the sidelines.
"I've been to the Singapore race and I think our cars will be fantastic over there with that style of the track," Lowndes told Speedcafe.com.
"It is great with the new organisation in Formula 1 that they recognise what we do and our championship as a whole.
"Moving forward there is more scope and parameters that we can go and race in F1 venues. Singapore would be perfect fit for us location wise. I think the cars will love that style of track."
Garry Rogers Motorsport's Garth Tander believes it would be a good move for Supercars to expand its relationship with F1, but feels a deal should only be struck if it is sustainable for the series.
"I would like to race over there but it has got to make sense," Tander told Speedcafe.com.
"There is no point in going to do a race just because it is another one at a Formula 1 grand prix. It has to fit into what is going one with the Supercars championship.
"The timezones are much more attractive in Asia and certainly from an FIA point of view it is good for us to strengthen that relationship if we can and continue to grow the sport.
"We have been a bit quiet on the international front over the last few years and as long as it all makes sense then I'd love to be a part of it."
Tickford Racing star Chaz Mostert has recently experienced racing in Asia having taken part in the recent Asian Le Mans Series and feels an expansion into the region is worth pursuing.
"It would be cool to go overseas a bit more," Mostert told Speedcafe.com.
"I haven't done Singapore itself but obviously overseas stuff would be really cool and showcase our category.
"You can fly over to Asia and it is a similar timezone it all makes sense. We have just got to make it worth it for the category.
"It is always good to go racing at different tracks outside of Australia."
The Supercars Championship's last visit to Asia came in 2015 when five cars were sent to compete in demonstration races at the now defunct KL City Grand Prix in Kuala Lumpur, Malaysia, as a precursor to a planned championship round at the location.