Di Grassi fined for underwear infringement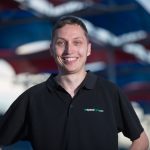 FIA Formula E driver Lucas di Grassi has copped a fine of almost $16,000 (10,000 Euros) for wearing non-compliant underwear during the Punte del Este ePrix.
The Brazilian driver was summoned to the stewards shortly after finishing second to Jean-Eric Vergne in Round 7 of the championship.
Di Grassi was found to have been wearing underwear which failed to meet the FIA criteria resulting in a hefty fine and three penalty points on his licence.
"After checking the clothes, helmet and FHR (frontal head restraint, or HANS device) of the drivers it was found that the driver (wore) short flamed-resistant underwear pants which are not allowed by the ISC [international sporting code]," read an FIA bulletin.
"The driver apologised.
Stan Sport is the only way to watch every round of the Formula E. Click here for all the action streaming ad-free, live and on demand.
"The Stewards consider that in this case a fine is sufficient. Penalty points (have) to be added because of the incident against safety regulations."
Di Grassi, who will keep his second place finish, has since explained to Autosport that he elected to wear the non-compliant apparel after running out of dry race-suit underwear in the hot conditions in Uruguay.