Supercars 'Gen3' rules an 'evolution rather than revolution'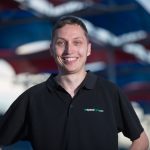 Supercars' next set of regulations for 2022 and beyond will be more of an 'evolution than revolution' from Gen2, according to the championship's new boss Sean Seamer.
The championship is in its second year of the latest set of regulations, arguably the biggest conceptual shift to hit the Australian Touring Car Championship since 1993.
Gen2 was introduced to entice new manufacturers into the sport by allowing the use of a variety of non-V8 engines and two-door body shapes to compete alongside the existing equipment.
The concept is yet to attract any new marques although it is understood to have helped Holden recommit to the series and develop a V6 twin-turbo engine, which is due to make its full championship debut next year.
However, the future of the only other remaining factory backed team, Nissan, is yet to be decided beyond 2018.
Work on the next set of Supercars regulations, 'Gen3', began in 2016 and will be delivered by new CEO Seamer, who officially began his role at the Adelaide 500 earlier this month.
The former MediaCom boss has already indicated that the sport's V8 roots will not be ignored and believes there is little change required to safeguard the category's future.
"It's still early days for me but when you look at this product, it is the best door-to-door racing in the world, hands down, and you need to be careful with how you evolve that," Seamer told Speedcafe.com.
"The Supercars technical team have done such a fantastic job around technical parity and putting on such a fantastic show that my guidance when we get into that process will be evolution rather than revolution, so we can continue the journey that we've been on."
It is a view echoed by Shell V-Power Racing managing director Ryan Story although he feels there is always room for improvement and the ability to embrace new technology.
The Penske run team operates without a manufacturer alliance, and while it continues to seek a partner, Story reckons the category can survive without true manufacturer teams.
"I think there are things to optimise the rule set that we are under now and there are other technologies that we should look to embrace in the future," Story told Speedcafe.com.
"Triple Eight and General Motors are obviously investigating the V6 twin-turbo, and maybe there is something we could look at from hybridising our existing drivetrain.
"There are a number of technologies we can look to incorporate if we are thinking more about market relevance without jeopardising the strength of our existing platform.
"The quality and strength of our racing is what has kept the sport in its rude state of health over the past couple of years.
"We have seen a massive paradigm shift in terms of what we have had in the past with fairly overt and robust manufacturer involvement and we don't necessarily have that now.
"A key part in what's enabled us to have success is that we have a product which is very strong.
"We just need to continue to evolve and understand."
Meanwhile, Garry Rogers Motorsport has urged caution over the next set of rules while the category strives to attract new manufacturers.
The Melbourne squad has witnessed the advantages of running as a manufacturer team, having operated as the Volvo factory squad from 2014-2016, before returning as a Holden customer last year when the Swedish marque exited the category.
Team director Barry Rogers believes the sport must be careful not to forget the fans when setting rules to attract manufacturers.
"We have to be careful because maybe what appeals to manufacturers doesn't necessarily appeal the public and you need to weigh up who you need more for the sport to be successful," Rogers told Speedcafe.com.
"I think it is hard to find the balance because when you look at manufacturers it appears to be smaller capacity engines and new technology is their thing, but is that going to be appealing to our fans? I don't think it is.
"But if you say that Australian Supercars racing is V8s and that is how it has got to be then that is short-sightedness.
"If you are not prepared for change then you will still be running around in horse and carts.
"There is no point just putting things out there and hoping manufacturers come. There needs to be manufacturers saying what they want for them to join the series.
"I think we do need manufacturers to balance it all up and it is not necessary the money from them.
"When we had the Volvo, and there was some money from the factory, the differentiation of the car brought other income streams.
"When you are one of 14 Holdens running around it is a hard commercial sell.
"The involvement of manufacturers is important not just from a financial sense but because it creates points of difference."
Triple Eight team manager Mark Dutton sees no requirement for wholesale changes with the current Supercars formula regarded as one of the most competitive championships in world motorsport.
However, he acknowledges that evolution represented by the squad's move to develop the V6 twin-turbo will be key in attracting manufacturers, which will benefit the sport in the long run.
"We are one of, if not the most competitive motorsport in the world looking at difference in lap time over total lap time," Dutton told Speedcafe.com.
"That means we have a good formula but that doesn't mean it can't be better.
"It is pretty on the money and I would hate for there to be a revolutionary change, but I'm all for evolution.
"More manufacturer involvement is not just interesting and cool to see lots of different shapes of cars on the track, it is needed for the future of the sport."
Although, he believes there should be more focus on reducing the championship's demands on teams.
"We need to make it more sustainable for the teams, the crew and the people who make their livelihood out of it," he added.
"It is massively demanding and its tough, that needs more attention than any rule change."