Mostert expects tough Holden, Shell Ford AGP battle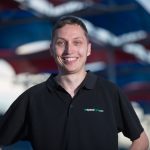 Chaz Mostert expects a tough challenge to overhaul the Holden ZB Commodores and Shell Fords when the Supercars Championship resumes at Albert Park next weekend.
The Tickford Racing driver has built up a strong resume at the Australian Grand Prix recording seven podiums, including a win last year, in the last 12 races at the Melbourne track.
While the Ford Falcon FGX is proven quantity at the track having swept the 2015 and 2017 weekends, Mostert believes the inaugural championship round at the venue will prove a far greater challenge.
The 2014 Bathurst 1000 winner is predicting the new ZB Commodore and the Penske Fords to lead the way, but is hoping the arrival of some upgrades to his car will help close the gap.
Holden claimed five of the six podium finishes at the Adelaide season opener, while Mostert finished the two races seventh and fourth respectively.
"Hopefully we can try some things at the Australian Grand Prix to make the car a bit quicker but saying that the ZBs were pretty quick around Adelaide and I think they will be quick around there too," Mostert told Speedcafe.com.
"They have definitely got a lot of straight-line speed and that place has a fair few more straights than others.
"It is going to be pretty tough to get on top of those guys and the Penske team.
"We finished fourth at Adelaide and we could see the leaders. It is all going to come down to qualifying and it always does.
"We just need to make the car a little bit quicker, it is there or thereabouts and hopefully the new parts for this round can make a difference."
Mostert is looking forward to new format for this year's event which will see the field tackle two sprint and two pit stop races in pursuit of the inaugural Larry Perkins Trophy, which was unveiled on Thursday.
"We always treated it as another round and now its a championship round it is going to be interesting especially with a different format too," he added.
The Supercars field will hit the Albert Park track for the first time when opening practice begins at 1250 local time Thursday.