Erebus plans to stick with V8 Commodore for 2019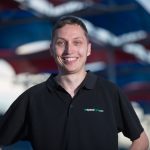 Erebus Motorsport intends to stick with V8 power plants in its ZB Commodores instead of switching to the twin-turbo V6 engine next season.
Supercars is set to usher in a new era in 2019 with the introduction of alternative power units, courtesy of Holden's V6 twin-turbo engine, which has been developed in accordance with Gen2 regulations by Triple Eight and General Motors.
The 3.6 litre unit is a version of the motor used in the Cadillac ATS GT3 racer and is due to be available to Holden Supercars teams on a lease basis from Triple Eight.
It had been originally slated to make its debut this year to coincide with the debut of the ZB Commodore, before a decision to homologate the car initially with the current V8 engine.
Development of the engine, alongside the ZB aero package, has taken place throughout last season with a series of wildcard runs planned this year, including the Bathurst 1000, before a full 2019 roll out.
So far its only public appearance arrived at last October's Supercheap Auto Bathurst 1000 when a Triple Eight Holden Sandman Supercar ran demonstration laps.
While the engine is yet to make its competitive Supercar debut, Erebus has already indicated its wish to continue using the current five litre V8 powered ZB Commodore package.
The squad will however make its final call on the matter by May.
"This is just our view. It (the V6 twin-tubro) doesn't relate to anything in what we are doing," team manager Barry Ryan told Speedcafe.com.
"We race V8s and Betty (Klimenko, team owner) will say the same thing and I think she is more against it (the V6 twin-turbo) than anyone.
"Until it is a business decision and we have no choice, they (Supercars) homologated a ZB with a V8 and there should be no reason for that to change."
As reported in December last year, Supercars were yet to determine if the homologation of a V6 twin turbo ZB Commodore would supersede the homologation of a V8 ZB Commodore.
However, the category has since told Speedcafe.com that teams are expected to be permitted to run either a V6 twin-turbo or V8 powered ZB Commodore next year if both homologations continue to exist.
"The ZB Commodore is currently homologated to run a V8 power plant," read a statement from Supercars.
"The model then remains eligible with a V8 power plant in perpetuity. For example, the (Mercedes) E63 and the (Volvo) S60 are still eligible models under the rules.
"A ZB Commodore with a V6 engine would; need to be homologated and once homologated would also become an eligible model; along with the ZB using a V8 power plant.
"Under the rules teams are permitted to run any engine configuration as long as they are an eligible model."
Meanwhile, Holden sees the introduction of the V6 twin-turbo as key part of its Supercars program designed to fall into line with the ZB Commodore road car, which will be sold with a normally aspirated V6 engine.
Last week, the manufacturer gave its strongest indication yet that it would remain involved in Supercars beyond its current factory agreement with Triple Eight, which expires at the end of 2019.