Ricciardo: F1 season will make contract situation easier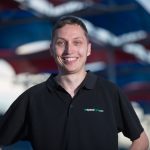 Daniel Ricciardo is hoping the start of the new Formula 1 season in Australia will shift the focus away from the speculation surrounding his 2019 future.
The Australian is a key player in the driver market with his current contract at Red Bull Racing due to expire at the end of the season, leading to suggestions he could join Mercedes or Ferrari next year.
Ricciardo is keen to bide his time to see how the Red Bull RB14 performs against championship rivals Mercedes and Ferrari this year before indicating his wishes to stay or split with the Milton Keynes operation.
It was reported last week that both Red Bull and Ricciardo have agreed a deadline with regards to contract discussions, which are expected to begin in April.
The five-time grand prix winner has faced several questions regarding his future during pre-season testing and believes next week's curtain raiser on home soil at Albert Park will make his current situation easier.
"For me personally I'm glad testing is over as it is not that exciting, especially when you are in the car doing long runs with a bit of fuel," said Ricciardo.
"I'm looking forward to Melbourne, which is what my sights are set on to get the job done there and hopefully it'll make the situation a little easier to handle.
He also believes a clear picture of where Red Bull sits compared to its rivals will only emerge once the European season begins at the end of April.
"We'll have to see after the first couple of races. It is going to be interesting and it is going to be tough," he said.
"Everyone wants to move on and try to figure out what the plan is, not for this season which hasn't even started yet, but for 2019."
Ricciardo and Red Bull head to Melbourne feeling confident after a strong pre-season testing campaign that saw the Perth native briefly hold the unofficial lap record at Barcelona's Circuit de Catalunya on the second day of the final test.
"We're certainly more ready than we were last year – and probably every year before that since I've been with the team," added Ricciardo.
"We did a lot of laps, I think the pace of the car is not bad, I think we still have some things to improve, it's normal.
"But yeah, going to the race and having confidence to push the car on the limit and to push the engine a little bit, I think we have much more confidence now."