Supercars to launch expanded eSports series in 2018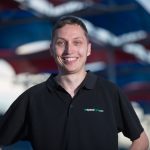 Supercars is working on plans to launch a six round eSports series this year following the success of its maiden event at the Supercheap Auto Bathurst 1000 last season.
Australia's premier racing category has long been planning to enter the eSports scene, dipping its toe into the water with its Harvey Norman Supercars Forza Challenge held at Mount Panorama last October.
Following the success of the event, which was streamed more than 200,000 times online, the category is pushing ahead with a series of eSports events to begin in the second half of 2018.
Details for Supercars' new eSports series are yet to be finalised and announced.
Last year's Bathurst event saw the category utilise an association with Xbox and the Forza Motorsport computer game series, which features detailed virtual recreations of Supercars vehicles and the iconic Mount Panorama circuit.
Top gamers from across the country were selected through a qualifying process before they were pitched against each other on simulators in the Bathurst pit lane.
Supercars drivers also took part racing with and against the candidates.
Virtual racing is fast becoming a lucrative market with Formula 1, Formula E and the World Rally Championship all launching an official eSports series.
New championship CEO Sean Seamer sees the platform as a key tool in developing young talent.
"There is a plan to expand on the back half of this year. We are looking at expanding to six events with the support of our partners," Seamer told Speedcafe.com.
"Absolutely, it is a market we need to be in. If you look at racing simulators from an eSports point of view they are so well developed compared to other eSports platforms, so we are in a good place to capitalise.
"It is such an interesting platform from a youth development point of view and an expansion of our platform and all the way through to the SRO (Global GT3 organisers), who are using it to test rules and regulations changes in a virtual environment.
"The possibilities there are endless for the whole sport. Our prime focus is using that as a youth development pathway vehicle."
Supercars is expected to reveal more details on its eSports program later this year.