Supercars boss has no intention to see V8s disappear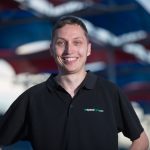 Supercars has no intention to completely abandon the V8 engine in the short-term as the category prepares to welcome new Holden V6 twin-turbo power plants.
The series is set to break new ground this year with the appearance of the first non V8 powered Supercar courtesy of a V6 twin-turbo wildcard run by Triple Eight.
Its yet to be confirmed appearance is a precursor for next season which will see the Brisbane powerhouse adopt the 3.6 litre engine, which has been co-developed by the team and General Motors Racing, in all three of its Commodores.
The engine will be available for all Holden teams under a lease deal and may become mandatory for all Commodores.
THE FINAL RACE OF THE 2023 REPCO SUPERCARS CHAMPIONSHIP ON ONE OF THE WORLD'S BEST STREET CIRCUITS. GO ALL IN AT THE VAILO ADELAIDE 500, CLICK HERE TO BUY TICKETS
As reported by Speedcafe.com in December, Supercars was undecided if the V8 powered ZB Commodore would be eligible to compete alongside its V6 twin-turbo version in 2019.
The introduction of the V6 twin-turbo has proved a hot topic among fans who largely remain loyal to the traditional V8 engines.
Holden is the first manufacturer to commit to a move away from V8s in accordance with the series' Gen2 regulations, which run until 2021.
The V6 twin-turbo remains a key part of its Supercars program moving into the future, according to marketing director Mark Harland.
Rival manufacturer team Nissan has previously investigated an engine change, but its own Supercars future is yet to be confirmed beyond this year, while Ford teams have shown no signs of switching from V8s.
Speaking at his first event since being installed as Supercars CEO, Sean Seamer says the championship's V8 roots are expected to remain as its moves into a new era.
"We're with Gen2 until 2021. We will have some form of forced induction. Well, that's likely because we've got a wildcard running this year," Seamer told Speedcafe.com.
"Will V8s go? No I don't think so, certainly not in the short to medium term and that's not the intention.
"The guys are supporting in any way possible, the manufacturer discussions.
"I think that will see a variation of engines and formats of cars.
"It's such a fantastic position.
"I think what we have to do is focus on providing the best form of racing and lean on the great technical parity work being done as we evolve so that we're able to keep these cars within tenths of each other as they are, irrespective of what the car, how many doors the car has or how many cylinders the engine has."
However, Seamer says the category will always listen to fans, manufacturers and teams when deciding the best course of action for the championship's future.
"We're an entertainment platform right, and we're one of the biggest entertainment platforms in Australia," Seamer added.
"This is an entertainment platform and if you're in an entertainment position you've got to think about what your fans want.
"We'll work through that with all our partners and we do listen to the fans, I know that, I've seen that from the teams.
"We listen to the manufacturers, we listen to the team owners, the drivers, it's a complex eco-system, but we listen to all corners of it as we look to (provide) the best door to door racing on the planet."