Top rookie a 'bonus' for De Pasquale on debut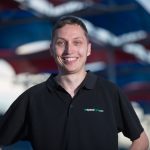 Anton De Pasquale says finishing as the top rookie on his Supercars debut was a bonus from an impressive showing at the Adelaide 500.
The Erebus Motorsport driver produced a series of accomplished performances in what was his first ever race in the series, having previously competed in Super2 since 2016 before a main game call-up.
De Pasquale left South Australia sitting 15th in the standings after finishing 19th and 17th in the two races, surpassing the efforts of his fellow rookies Jack Le Brocq, Todd Hazelwood, James Golding and Richie Stanaway respectively.
The 22-year-old has garnered plenty of praise from his team for his efforts considering his lack of experience compared to his rookie rivals.
THE FINAL RACE OF THE 2023 REPCO SUPERCARS CHAMPIONSHIP ON ONE OF THE WORLD'S BEST STREET CIRCUITS. GO ALL IN AT THE VAILO ADELAIDE 500, CLICK HERE TO BUY TICKETS
With this season only his third in touring cars, the former single-seater driver feels the weekend has helped him assimilate to the rigours of the Supercars Championship.
The 78-lap races at Adelaide were the longest he has contested apart from the 2016 Bathurst Super2 250km, which he finished on the podium.
"There has been a bit of limelight on us rookies with five of us stepping up which is something new for the category, so being able to come out as the top rookie is a little bonus for the weekend," De Pasquale told Speedcafe.com.
"Overall we kept both of our races pretty clean against some fast and experienced guys. I've learned a lot.
"I didn't really have a position in my mind (of where I wanted to finish).
"The big thing was to try and complete every lap of the race because there is a lot to be learnt there and all of that went to plan.
"I got to race behind Craig Lowndes for a fair part of that second race and he is one of the best racers out there so that was a good thing to do.
"I've never really done a race as demanding as that before. I didn't really know what to expect and how I was going to feel after 50 laps.
"Mentally it was better for me going into Sunday's race having experienced Saturday so that was big thing for me.
"Dave (Reynolds) was really fast and got some cool results so there was lot to learn from him too."
Despite his limited experience, De Pasquale proved valuable to his team by assisting David Reynolds in mastering sections of track in sector 1.
"We both want the best results for the team and he (Dave) has got a lot more experience and speed than me at the moment," he added.
"If I'm able to help him in two corners which helps hm from fourth to second for example then that is a positive for the whole team.
"In the first sector I was doing some things a bit different to him which were working but had me covered for the rest of the track."
De Pasquale will face another new challenge when the championship reconvenes at the Albert Park circuit, a track he has never raced on previously.
"I haven't been to the Australian Grand Prix so I'm really excited to get there and get my head around that," he added.
"The cars are in a good position and with the new Commodore I think we have put something together which is working, so hopefully we have good car there.
"Luckily for me we have got the new simulator at Erebus so that will be utilised most days to try and learn as much as possible.
"I will also look old footage and track maps. I'm also in Melbourne so I will probably end up just running the bike around there."