Walkinshaw/Andretti alliance yields US upgrades for AGP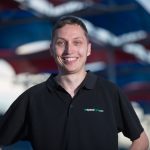 Walkinshaw Andretti United's partnership with Andretti Autosport is well underway with upgrades manufactured in America set to arrive on the cars at the Formula 1 Australian Grand Prix later this month.
The upgrades are part of sweeping changes at the squad described by long time Walkinshaw driver James Courtney as the most significant 'in eight years' undertaken by the team to recapture past glories.
American powerhouse Andretti Autosport has assisted the team's development push by allocating some of its resources to engineer parts for the new ZB Commodore.
After a dismal 2017 campaign, optimism is growing at the Clayton outfit with the anticipated upgrades part of a steady stream of items expected throughout the year.
The squad currently leads the Teams' Championship standings following a strong outing in Adelaide, which included top 10 finishes for Scott Pye, while Courtney finished second in Race 1 and sixth in Race 2.
While street circuits have suited the car in the past, fresh changes to the rear of the ZB Commodore has resulted in legitimate pace, which could be further boosted by unspecified parts from America, according to Courtney.
"I'm pretty confident it's a legitimate step forward," said Courtney of the team's performance in Adelaide.
"We've changed the whole twin spring setup (works) in the rear.
"It's a completely new system now that you can feel working, that makes a big difference for us driving wise, and we've got a twin (spring) in the front to throw in for the Grand Prix as well, which we've never had before, and then also a couple of little tricky bits from the US.
"It's going to be exciting. It's going to be great. (It's) important to get all that stuff in and get some time on it on that sort of circuit where it should show us some reward.
"We'll have things rolling in throughout the year.
"They've (Andretti Autosport) got a couple of different projects that they're all working on with different areas just because of the resources they have and the timeframes they can design and do all that, turn things around.
"There's quite a few little parts that they're working on and areas of the car."
Boosted by developments from America, Courtney believes the biggest change at the team has been the arrival of British Touring Car Championship technical guru Carl Faux.
Faux, who designed BTCC championship winning cars for MG and Subaru, joined the squad last year and is now heading up the technical group at Walkinshaw Andretti United.
Courtney believes his fresh approach has already resulted in a positive impact on the team.
"I think the biggest change is probably Carl, the new technical guy," added Courtney.
"He's very solid, very confident, and that sort of just bringing a whole heap of confidence to the engineering group and structure and the boys are just working really, really well together.
"If you have strength at the top it filters all the way through, so I think that's been a big win for us, getting him onboard.
"The way it was since I arrived in the team, was sort of promoted from within, so never really had a fresh set of eyes come in at that level, they were always with the team for a while and then became into that position.
"With Carl just coming in he's sort of gone 'why the hell are you doing it like that for?', 'why's that like that for, it shouldn't be like that?'.
"It's sort of refreshing and I think the guys have sorted a lot of things on the car that they were sort of questioning but weren't really sure about, so it's been good for them."
Andretti Autosport boss and former IndyCar star Michael Andretti witnessed the team's opening round and played an active role in debriefs, which was an added bonus for Courtney.
"When you get out of the car and you're explaining something and talking with the engineering (group), obviously he's been in the game a long time and he's saying 'yeah, yeah I know that feeling, you can't do this and it won't load here'.
"When you're trying to explain something to your boss, to Ryan (Walkinshaw), his eyes just glaze over.
"But (Andretti) has a really mechanical understanding, so it's good. And obviously when you're a kid growing up watching him, it's quite a big deal, and then to be engaging with him like that, it's pretty cool."
Walkinshaw Andretti United will head to Albert Park for the second round of the season held from March 22-25.