Triple Eight responds to weight parity debate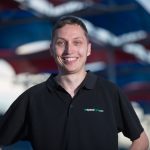 Triple Eight has issued a response to Ford and Nissan concerns over the use of lightweight composite panels in the homologation of new Holden ZB Commodore.
Rival Supercars manufacturers aired their views on the new Holden following a successful race debut for the car that resulted in a pole position, race win, and fastest lap in Race 1 at the Adelaide 500.
Ford teams Shell V-Power Racing and Tickford Racing wish to address a perceived advantage the Holden has from using composite panels, which presents an opportunity for the team to reduce the centre of gravity of the car by transferring the weight into the floor using ballast.
Triple Eight team manager Mark Dutton says teams have the option to employ the use of composite parts with approval from Supercars, but argues there isn't a noticeable difference in the centre of gravity figures between the cars.
THE FINAL RACE OF THE 2023 REPCO SUPERCARS CHAMPIONSHIP ON ONE OF THE WORLD'S BEST STREET CIRCUITS. GO ALL IN AT THE VAILO ADELAIDE 500, CLICK HERE TO BUY TICKETS
The team has acted in accordance with Supercars regulations with the design of its ZB Commodore which meets the required minimum weight limit.
Teams can submit proposals for component changes to Supercars at any point, although any changes must not yield a performance advantage.
Reducing the centre of gravity of a race car lessens body roll and improves a car's weight transfer and tyre wear.
"What the other teams are saying about the car roof compared to their steel roof, but we've got a hatch, with hinges on the roof, we've got all that weight higher, and we've got two rear windscreens where they've only got one," Dutton told Speedcafe.com
"There's all these little bits and pieces and Supercars, I believe, did the right thing, added all those weights up, worked out the weights, worked out the centre of gravity, and said, 'you know what? Actually, you're all pretty much the same.'
"Supercars have done the right thing by collecting the data, supplying the data, and saying that even with the fact that it's carbon, there's still parity, and other teams have refused, when given the opportunity, saying they didn't want to do it, so what can you do?
"You can't stop the category from moving forward, especially when you're checking that the parity is moving forward as well."
Dutton also argues that comparing results from the ZB Commodores predecessor, the VF, at Adelaide in 2017 offers little difference to those produced on Saturday.
Triple Eight dominated last year's opening leg of the Adelaide 500, while Shell V-Power Racing (Fabian Coulthard) and the Walkinshaw run Holden of James Courtney filled the podium.
The same teams occupied the top three positions in yesterday's 2018 opener.
"They're talking about an advantage or something like that, but if they're looking at the results this time last year, they're almost identical; you had Shane, you had Scotty McLaughlin, you had Courtney up there, so what's changed?," added Dutton.
"It is sometimes frustrating, we spend thousands of hours and it looks like you're in very similar position, but when we're in first position obviously we're happy with that."
Responding directly to Story's comments about the potential re-homologation of Falcon parts, Triple Eight boss Roland Dane suggested the squad should focus its attention on building a new car.
"They should get on and build a new car," Dane told Speedcafe.com.
"They are running a Falcon which has been out of production for well over 18 months so they need to build a new car.
"I hope they do, and they have got the capability to do it, and it would be great to see them do it."