McLaughlin had the pace to challenge SVG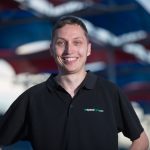 Scott McLaughlin felt he had the pace to challenge Triple Eight and Shane van Gisbergen for the victory before a puncture saw his race unravel in Adelaide.
The Shell V-Power Racing driver occupied third until lap 26 when he suffered a right front puncture which dashed his hopes of a podium.
Unfortunately the issue arrived short of the critical lap to pit for fuel to reach the chequered flag, forcing him into an extra pit stop.
It proved to be a bitter blow for the Kiwi who is adamant he could have given van Gisbergen a race to the chequered flag.
McLaughlin admits the reigning teams' champions were short of their usual pace and were forced to work hard to turn around the deficit this weekend.
"I got warning, the tyre pressure sensors thankfully, but I knew something was going down before Turn 8," he told Speedcafe.com.
"Lucky I backed off through there otherwise I'd say we would probably have been in the fence. Best case scenario out of a pretty bad case scenario.
"Behind Shane there, I felt really strong. The car was the best it had been all weekend. I was really excited for the end.
"Unfortunately I guess for the fans, Shane walked away a bit; we would have liked to have a bit of a battle there, but it's a testament to the guys.
"They worked really hard. We were in a lot of trouble on Friday and then to turn around it's fantastic.
"We just weren't at a winning pace. It's not where we expect to be and the boys turned it around. It took a while to get used to it and be comfortable with it, but it worked out really good."
While pleased by the way his team bounced back from a slow start to the weekend, McLaughlin, who finished third in Saturday's race, believes the level of the competition has gone up a notch.
Triple Eight's van Gisbergen dominated the weekend by scoring a double victory having started from pole position in both races.
"The gap's closed and the competition's increased, and we knew that was going to happen," he added.
"I think it's great for the sport. I'm excited for the battle ahead.
"I think we've got a lot of new stuff coming and stuff in the pipeline with other people and what's going on in the background with the boffins, and we'll sort it and come back stronger.
"Today we recovered pretty well, so I'm happy."
McLaughlin is lying fifth in the standings heading into the inaugural championship round at the Formula 1 Australian Grand Prix from March 22-25.