Angry Winterbottom lashes out at penalty call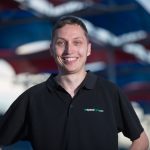 An angry Mark Winterbottom has criticised officials after receiving a penalty which took him out of the running for a podium finish at the Adelaide 500.
The Tickford Racing driver was handed a drive-through penalty on lap 57 for excessive use of the kerbs at the Senna chicane while running effectively fourth following the final round of stops.
Winterbottom was in contention with the lead group when the penalty was handed down which eventually saw him come home in 13th position.
The penalty prompted an explosive reaction from team boss Tim Edwards live on television, who labelled the call 'absolute bullshit'.
The 2015 Supercars champion said he had been driving consciously at that section of track having been warned of kerb strikes earlier in the race.
More importantly he feels his rivals were using more kerb and not triggering the sensor.
Speaking after the race Winterbottom revealed his frustrations at the accuracy of the current system in place.
"I'm pretty pissed off," said Winterbottom.
"I wasn't making purple sectors there.
"The first warning I lost three tenths a lap, and all the guys ahead of me are doing purple sectors going straight across inside it.
"I think that when you're now launching off it you're not getting the height because you're hitting it slower, and instead of launching over it you're kind of lower to the sensor and I think that's made it more sensitive.
"But I would like to see the footage to say you're four wheels over.
"Even in the Shootout I lost a lot of time there because Whincup and van Gisbergen are two tenths quicker because they just go straight over; two wheels off the track but high in the air. Whereas I had two wheels on the track and low, and it triggers them.
"(I'm) pretty annoyed because it costs you a race. I'd prefer them to go down there, stand there and say you had two wheels off; judge of fact."
Tickford Racing boss Tim Edwards expects the issue to be raised at the next meeting of the Supercars Commission.
"We have got to cop it, we are not happy about it and we have got to get on with it," Edwards told Speedcafe.com.
"From out point of view it was a mistake by the officials.
"It will be raised again but will we find a better system, I don't know?
"Every single year there are debates.
"Clearly it is an inaccurate system and every single year we go to a street track there is always someone being pinged.
"It is painful when you are on this side of the ledger because it just goes on and on. It is just not an accurate system."