SVG retains pole position after investigation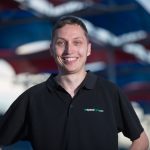 Shane van Gisbergen will start from pole position after stewards deemed the Red Bull Holden Racing Team driver did not exceed track limits in the Top 10 Shootout at the Adelaide 500.
Van Gisbergen's pole lap triggered a post session investigation for a possible breach of track limits on the exit of Turn 7, which are designated by a yellow line on the tarmac.
Stewards have however concluded that the 2016 Supercars champion's lap was not in breach of the rules, meaning his time will stand.
Stewards reviewed all of the laps in the top 10 shootout before determining a final outcome.
Triple Eight boss Roland Dane believes common sense has prevailed in the decision, claiming his driver did not gain an advantage.
"Clearly (common sense has prevailed). And it'll be history in an hour when the race starts, then who cares what happened in qually, pole position, shootout," said Dane when asked his opinion on the outcome.
"There's no performance advantage. Just because some bloke, when he painted the line, decided to straighten out a tiny kink in the concrete line when it should be consistent all the way down.
"Anyway, anybody who has any background in motorsport knows that what you're really looking for is infringements on the inside of the corner, unless there's an offset corner going the other way.
"If there is no advantage gained then why would you get excited? It's fairly straightforward."
Dane did however suggest that the yellow line on the race track should be amended in time for tomorrow's action to avoid any further ambiguity over track limits at that corner.
"I hope for tomorrow it's sorted out properly so there's no confusion," added Dane.
"There's confusion in other places in the circuit as well, as they know. Just do it properly and get on with life, and the fastest bloke wins."
The stewards have since issued a report outlining their decision.
"Following the Session the DRD investigated suspected breaches of Sch B2 Article 3.3 of the Code of Driving Conduct (deliberately exceeding track limits and gaining an advantage on rejoining) by all Cars competing in the Session," read the report.
"In the course of the investigation, the DRD reviewed the broadcast footage of all ten Cars in the Session, together with incar footage and still images, and determined that none of these matters warranted referral to the Stewards."
The opening race of the Supercars season is due to begin at 1520 local time.