Edwards unfazed by Tickford intra-team battle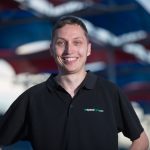 Tickford Racing boss Tim Edwards is confident his operation will have no issues managing arguably its most talented driver line-up ahead of the new Supercars season.
The Ford squad boasts one of the best driver rosters in pit lane with rising star Richie Stanaway added to the operation alongside 2015 champion Mark Winterbottom, 2014 Supercheap Auto Bathurst 1000 winner Chaz Mostert and Cameron Waters.
Following an impressive stint as co-driver during the last two seasons, Stanaway's arrival has set up a fascinating intra-team battle in 2018.
Last season Mostert proved to be the team's star performer scoring three race wins on his way to fifth, one place ahead of Winterbottom, who went winless last season, while Waters scored a maiden Supercars win at Sandown.
Given the talent at his disposal Edwards believes it won't be an issue to keep all four of his drivers content as the first competitive session of the season begins at the Adelaide 500 today.
"It is very simple process. I just want the boys to get out there and win," Edwards told Speedcafe.com.
"It is not as though Richie (Stanaway) is new to the team, he has worked with us for the last two years, and he has a relationship with the three other drivers so that helps as well.
"Richie is realistic. He knows it is going to be tough. It is going to be a baptism of fire for the boy as he doesn't know the track, but he will certainly be up for the challenge.
"I think we have demonstrated in the past that we have never had an issue in producing multiple competitive cars. There is no more pressure than what we put on ourselves.
"In 2015 it was Chaz and Frosty that were battling for the championship until what happened at Bathurst. An intra-team battle is not something new for us or this category."
Tickford Racing enjoyed a significant jump in performance in the second half of last year and the team is hoping to build on the rise this season.
"I think as a team we have down a lot of preparation but until you get on track you don't really know exactly where you are," added Edwards.
"Every race you go to whether its two weeks apart or two months apart, you are always looking to improve the car.
"What you don't know throughout that journey is how much other people are improving at the same time.
"All you can do is focus on yourself and we have done a good level of preparation and we will see what all that means.
"We haven't been sitting here playing Solitaire for two months everybody has been working really hard and I'd like to think we are in a good position going into the first race."
Opening practice for the Adelaide 500 is due to begin at 0945 local time.