Striking new look for Rick Kelly Nissan Altima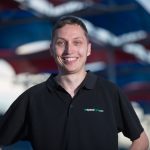 Rick Kelly will sport a striking new livery on his Nissan Motorsport Altima this season courtesy of new title sponsor Castrol.
The oil giant has stepped up its commitment to the team by becoming the naming rights sponsor on the #15 Altima for the 2018 Virgin Australia Supercars Championship.
Kelly's car will carry the iconic green, red and white colours and was revealed today at the Adelaide 500.
"I couldn't be more excited to represent Team Castrol in 2018," said Kelly.
"Those Castrol colours are pretty revered in Australian Motorsport, so it's definitely special to represent them.
"Castrol has flowed through my life for decades.
"They were the lubricants in our farming machinery in Mildura, on the bobcats I worked on in my teens, all the way through to my Bathurst victories in 2003-2004.
"Castrol as a brand has supported Todd and I since the start of Kelly Racing in 2009 and have been a great partner of the team since then."
Castrol Marketing Director, Ben Rose, added, "The opportunity to kick things up a gear with Nissan Motorsport is one that we couldn't be more excited about."
"Motorsport has always been a part of Castrol's DNA, and the presence of Castrol Racing on the track this year is something we know that Supercar fans across Australia are going to love."
The new Supercars season begins on Friday with opening practice set for 0945 local time.