Ingall's Supercars 2018 season preview – Part 1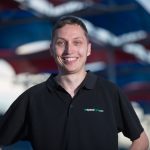 Supercars veteran turned Fox Sports pundit Russell Ingall runs his eye over the field ahead of next weekend's annual Adelaide 500 curtain raiser.
Next weekend will see the start of an expanded 16 round Supercars season which will once again see 26 drivers do battle for Australian motorsport's most coveted championship crown.
In the first instalment of a two part feature, the 2005 Supercars champion sat down with Speedcafe.com editor Tom Howard to predict the fortunes of DJR Team Penske, Triple Eight Race Engineering, Tickford Racing and Garry Rogers Motorsport.
DJR Team Penske (Ford Falcon FGX)
#12 Fabian Coulthard (Shell V-Power Racing)
#17 Scott McLaughlin (Shell V-Power Racing)
THE FINAL RACE OF THE 2023 REPCO SUPERCARS CHAMPIONSHIP ON ONE OF THE WORLD'S BEST STREET CIRCUITS. GO ALL IN AT THE VAILO ADELAIDE 500, CLICK HERE TO BUY TICKETS
SPEEDCAFE: We'll start with the teams' champions. It was a massive year for DJR Team Penske last year, can they stay on top?
INGALL: I think anyone that's predicting otherwise doesn't know the sport. They were super strong and getting stronger, so I'm tipping they didn't reinvent the wheel over Christmas and pressed on with the same sort of equipment, that'll be refined a bit more.
They had good car pace so why would you change it? It's not broken, so why change it? And it will probably be different for them now because they've got their systems in place now, personnel-wise, which is important. Everyone knows their place, there have been no major changes.
The Fabian Coulthard engineer change (Mark Fenning replacing Phil Keed) is the biggest. It's not going to upset the dynamics, it's probably an issue for Fabian more than anything, having to deal with that.
SPEEDCAFE: Is Scott McLaughlin the favourite to take the title?
INGALL: If nothing at all changed from last year, you'd say he would be. The only thing I've got a question mark is that I reckon these new Commodores might be fast. I don't reckon they've shown their true hand.
I'm looking at this as an overall picture here, not just as a driver, because you've asked me 'is he a favourite?
A favourite isn't just a driver, it's also about the team and the equipment that he's got around him and the people he's got around him.
If that Commodore sticks its head up out of the ground and hooks up, then you've got to start thinking that people like Shane van Gisbergen, who had a pretty average year by all accounts in various races, is going to have his head in the game again.
I don't think he'll have two years where he's sort of a bit hit and miss. You've got to say that, along with a couple of others.
I reckon the new Commodores might be half an item, and there's no way Triple Eight is going to homologate a dud; that's a fact.
SPEEDCAFE: With Fabian Coulthard on the other side of the garage I guess it's quite a big year for him because he was a bit overshadowed by McLaughlin at times last year.
INGALL: You have to feel for him because he finally got the break and in with one of the best teams in the category and then up pops McLaughlin, who ends up being a star.
It's a hard gig and I know how he feels because it's not dissimilar to when I went to SBR; I'm sort of thinking, 'Great, I'm on my game, here we go, one of the best teams in the category.' You rock up there, you go, 'Righto, we're going to start winning some serious races,' and then in rolls Marcos Ambrose.
But, the thing about it is that it doesn't matter whether the competition is coming from another team or within, you've got to lift, and that's some motivation. There's always going to be something or someone that's going to come along and raise the bar and you've got to roll with it or you get steamrolled.
Last year, make no mistake, he still had some really good races, but not consistent, and again it was the qualifying that let him down. If you take it piece by piece, then he probably, pace-wise and race-wise, has been as good as McLaughlin, but his qualifying hasn't, and as we've seen with Whincup over the years, that's where he's trounced his team-mates.
It's always qualifying, that's what's won Whincup all those championships, so he's got to qualify better and he'll be there, but it's going to be a tough one for the boy.
Triple Eight Race Engineering (Holden ZB Commodore)
#1 Jamie Whincup (Red Bull Holden Racing Team)
#97 Shane van Gisbergen (Red Bull Holden Racing Team)
#888 Craig Lowndes (Autobarn Lowndes Racing)
SPEEDCAFE: There has been a massive effort over the off-season to get the new ZB Commodore ready, how will Triple Eight fare this season?
INGALL: There's no way Shane van Gisbergen will have two average years on the bounce, and by his account it was an average year last year.
Again, a lot of inconsistency and probably some unforced errors that shouldn't have played out, but if he gets back on the game he will be a force.
I think he's one of those sorts of guys that needs to be in the car all the time racing other things. I think he'll jump back on top of things, there's no doubt about it, and that'll motivate Whincup too because, again, if a challenge comes within the team you've got to push ahead.
SPEEDCAFE: Jamie Whincup produced a huge effort to win a seventh championship last year, will he be ready for another title push?
INGALL: I reckon. I don't think he's one of those sort of guys that tapers off. He'll go really hard until he eventually decides he wants to walk away from it, so he'll push it hard again.
For sure, he'll be a contender, no doubt about that, and again if his car with this new aero package on this thing turns out alright, then that'll give him the tools to go fighting again.
The good thing about it is that I think up to a point he'll be more dangerous because the pressure's off; he's the most successful driver in Supercars, in the modern era, and there's no pressure.
So when there's no pressure you actually tend to go better, because you can have a swing at it, and that's what he'll do.
SPEEDCAFE: It was a difficult 2017 for Craig Lowndes finishing 10th in the standings and without a win, can a change back towards the 2016 specification tyres push him back up the order?
INGALL: He didn't like those new tyres. It definitely didn't suit his style, he couldn't get his head around it.
Well he couldn't get his head around qualifying. He still raced alright, but I was saying before, you can't win races, you can't win the championship when you're qualifying in 20th position, or 18th or whatever.
Again, he's going to be the other one that's going to have to, hopefully with this new tyre, get his qualifying situation better. There's no doubt about his racing abilities.
You watch in Adelaide, he'll be racing as hard and as fast as he was sort of 10, 15 years ago, so he'll be all over it.
SPEEDCAFE: A big talking point is this new ZB Commodore this year, do you see Triple Eight getting on top of it quickly?
INGALL: They'll get on top of it and I don't think there's any sort of issue. It may be a bit of a hindrance to Triple Eight doing all the homologation work I think, which might affect their prep in Adelaide.
I think once they get over Adelaide they'll be on it, but there's been a big workload on their machine shops and personnel. When all your facilities are working flat-out for customer stuff, well then your own racing team suffers a little bit too.
Tickford Racing (Ford Falcon FGX)
#5 Mark Winterbottom (The Bottle-O Racing)
#55 Chaz Mostert (Supercheap Auto Racing)
#6 Cameron Waters (Monster Energy Racing)
#56 Richie Stanaway (TBA)
SPEEDCAFE: Tickford Racing has assembled arguably the strongest driver line-up they've ever had. How do you see the intra-team battle playing out?
INGALL: I expect Cameron Waters to be stronger again; he's more experienced and has more race experience.
Chaz Mostert will be good; he was on fire at the Bathurst 12 Hour, he was seriously fast.
He looks like he's got a bit more aggression in him too, he's having a bit of a stab at it, which is good because it's exactly what you need. He'll be a threat (but) it's going to be up to the team. I reckon he's up for it; the team has got to give him a consistent package.
With Richie Stanaway, there's no doubt about his racing ability. His racing ability will be one of the best in the field as far as wheel-to-wheel racing, and he'll upset a few dudes.
But he's got to learn tracks, qualifying will be a drama for him, getting the one lap out of it, until he learns, but racing-wise he'll be right on it, so that's a massively strong line-up.
It's actually pretty impressive, but that puts extra pressure on the team, that they have to supply four very strong cars too.
And then Mark Winterbottom, he's got to race the rest of the field but his team is so strong that his biggest battle is going to be within his own team.
There's a few people that sort of want to get down on Mark a bit, saying that this may be the downward spiral and all the rest of it, but when you look at his consistency over the years, it's been outstanding.
Last year was probably one of his worst years, but his consistency is strong. If you had an opening for him you'd give him a job because he's rarely ever out of the top five and he's super consistent and still fast.
He can do it but he's going to have to find, again, that little bit more speed in qualifying.
You're never too old to learn, you never stop learning. Someone will come along and do something better or different or whatever, and you can be pigheaded and don't take that onboard, and you'll get smoked.
Garry Rogers Motorsport (Holden ZB Commodore)
#33 Garth Tander (Wilson Security Racing)
#34 James Golding (Wilson Security Racing)
SPEEDCAFE: Garry Rogers Motorsport had a very good season last year despite having to make a late switch from Volvo to Holden. This year they have had more of chance to get ready fo the new season, how do you rate their chances?  
INGALL: Moving James Golding into the team didn't surprise me given Garry's theory of bringing on young guys which is admirable. The team seem to rate him quite high.
Garry really likes someone that gets his hands dirty and works on the cars. He is old school. James will probably get to understand how the car works a bit more from doing that and perhaps more drivers should follow that.
It is the racing side of things where he will be judged, but he has a pretty handy team-mate in Garth Tander, who I still rate as the best racer in the category, so he should pick up a lot from him.
It is a good combination there of experience and youth. It is a good split at the team and I think it is pretty smart from them.
Log on to Speedcafe.com on Sunday for the final part of Ingall's Supercars Preview, featuring Erebus Motorsport, Nissan Motorsport, Walkinshaw Andretti United, Brad Jones Racing, Tekno Autosports, Preston Hire Racing, 23Red Racing and Matt Stone Racing.