Team 18 reveals Colorado SuperUte program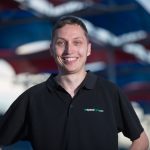 Supercars squad Team 18 will enter the inaugural ECB SuperUtes Series with a Holden Colorado for karting champion Tomas Gasperak.
The Melbourne operation has taken the covers off its ACDelco backed Colorado, which will be based out of the same workshop as its Preston Hire Racing ZB Commodore raced by Lee Holdsworth.
A move into the new dual-cab, turbo diesel powered SuperUtes series represents a first foray into a category outside of Supercars for the Charlie Schwerkolt run team.
It is also the first SuperUte entry by a current Supercars team, while primary sponsor ACDelco is a subsidiary of Holden parent General Motors.
"I can't wait to see the Superutes hit the track in Adelaide, and we're very excited to have ACDelco on board with the Holden Colorado," said Schwerkolt.
Schwerkolt has elected to field a rising star in Gasperak for the eight round series, which begins on the streets of Adelaide from March 1-4.
The 15-year-old from the Gold Coast has starred in karting winning the Junior Max state title and has run in NASCAR late models in America last year.
He is set to be the youngest on the SuperUtes grid as he looks to embark on the next step of his burgeoning career.
Gasperak is likely to be among a dozen of SuperUtes set to contest the Adelaide season opener, where the teenager will share the track with former V8 Utes stalwart Craig Dontas, Ryal Harris and Dakar Rally champion Toby Price.
Mitsubishi, Mazda, Ford, Toyota, and Holden are expected to represented on the grid in the South Australian capital.
There is a question, however, over whether the Isuzu D-Max which is to be raced by Steve Wilson will make Round 1 due to a delay in engine development.