Front bar mount mods tipped after BJR shakedown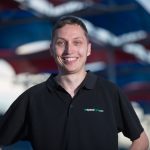 Modifications may be required to strengthen mounts used in attaching the front splitter to the new ZB Commodore after Brad Jones Racing encountered an issue during a Phillip Island shakedown.
The Albury team elected to conduct its shakedowns for Tim Slade and Nick Percat chassis at the fast and flowing Victorian circuit on Tuesday to further understand the effects of the new aero package.
While the cars ran well, the team reported that the splitters shook and vibrated while under stress.
The issue has been reported to Garry Rogers Motorsport, which has been charged with producing the front bars for the Victorian-based Holden teams, under licence from Triple Eight, the official homologation team for the ZB Commodore.
THE FINAL RACE OF THE 2023 REPCO SUPERCARS CHAMPIONSHIP ON ONE OF THE WORLD'S BEST STREET CIRCUITS. GO ALL IN AT THE VAILO ADELAIDE 500, CLICK HERE TO BUY TICKETS
Brad Jones Racing is understood to be the only Holden team to have encountered this issue with the new car so far.
Speedcafe.com has learned that the squad uses a different mounting system for its front bars compared to other teams.
"We got to run the cars which was what the day was all about," Brad Jones told Speedcafe.com.
"We had a bit of splitter shake, I don't think it is too much to worry about we are working through it."
Garry Rogers Motorsport team director Barry Rogers is confident a solution can be sought which could involve strengthening the mounts.
"We were not involved in the homologation of this car so we have only made the parts to the specs that we were given, and at a high-speed circuit it appears, with the long front overhang, there is a bit of vibration happening," Rogers told Speedcafe.com.
"We were not aware of it, but we are now so they may be some modifications to the supports inside the bar.
"When we made these they are made with more support than what the VF is, but not as much as what was on the Volvo (used by GRM from 2014-2016).
"These sort of things happen with a new car, I'm sure it can be sorted."
Triple Eight is aware of the issue and has told Speedcafe.com that the process of attaching the front bars is open to team interpretation with no specific method advised or prescribed.
Team boss Roland Dane has also confirmed that the rear wing element for the ZB Commodore is Supercars controlled part and not purchased from Triple Eight, after Erebus Motorsport and GRM reported a lack of parts in that area.
With shakedowns of the ZB Commodore completed, the new generation Holden will receive its most vigorous test yet at Friday's pre-season test at Sydney Motorsport Park.