Revamped Winton to host RXAus opener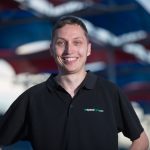 The second season of the RXAus.com.au Australian Rallycross Series will kick off at a revamped Winton circuit this weekend.
Winton has undergone a number of changes ahead of the series opener including the construction of a jump and a new section of track to be used as the joker lap.
The new section uses the old service road that runs across Winton's infield, between turns three and four of the permanent road course layout.
The jump will remain optional for competitors with a path around it for those who don't wish to use it.
The Victorian venue made its rallycross debut in July last year and is set to host three of the seven RXAus rounds this year, including the championship finale on November 10-11.
"We wanted to include a jump that competitors have the option to use and put it where the crowd could see it," Winton Raceway Operations Manager Wayne Williams explained.
"We have made a new section of circuit which will be used as the joker lap in each race and that will include the jump.
"We're looking forward to seeing how the new track goes alongside the existing RX component which has been retained.
"We're excited to have three rounds of Rallycross at Winton this year culminating in the Nationals at the end of the year. It's an exciting sport that is growing quickly and we're happy to be involved."
Reigning champion Justin Dowel will return to defend his title in a brand-new Hyundai all-wheel-drive entry.
The championship winning car from last year will be taken over by young-gun Arron Windus, who makes the step up after several strong performances in the two-wheel-drive class in 2017.
Meanwhile, TechSport will return with a two-car Mitsubishi Lancer Production AWD class, with 2015 Australian Tarmac Rally Champion Danny Traverso taking over the Evo VIII Steve Glenney raced last year.
A brand-new EVO VII built for long-time Production Car racer Kevin Stoopman will also make its debut at Winton.
Teenager Troy Dowel, fresh from more overseas competition, will also be a contender in the all-wheel-drive class after several stunning performances last season.
After winning several rounds last year, Will Orders will step into two-wheel-drive for the opening round, taking over the well-developed Mazda 2 after delays in completing upgrades to his fire-breathing Mitsubishi Lancer Evolution.
A full entry list for Sunday's opening round is set to be revealed later this week.