Supercars confirms twilight AGP races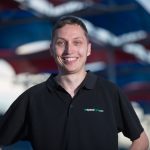 Supercars has confirmed two twilight races at this year's championship round at the Formula 1 Australian Grand Prix in March.
The series will do battle for championship points for the first time at Albert Park from March 22-25, with two of four races to be held in twilight.
A provisional track schedule has been released which will see the two (25 laps, 132km) compulsory pit stop races held in the evening, while the two sprint races will be held in daytime.
The first race of the weekend will be a twilight affair beginning at 1750 local time on Friday.
A second pit stop race will be held slightly later, from 1820 on Saturday night after an earlier 13 lap (69km) sprint at 1240.
The final sprint race of the weekend take place at 1345 on Sunday prior to the Formula 1 race.
"The twilight time slot works well for our television audience as well as fans at the track, who will get to see our first points races at Albert Park in perfect conditions," said Acting Supercars CEO Shane Howard.
"To participate fully as a round of our Championship in Melbourne with 400km of racing across three days which includes pitstops, is a huge win for our fans, teams and our drivers.
"It is an honour to be alongside Formula One at Albert Park and as an official support category to the world's premier form of motorsport."
Supercars' maiden championship round at the Australian Grand Prix will see drivers race for the inaugural Larry Perkins Trophy.
This year's F1 race will be held slightly later than previous years due to changes in the timetable for all F1 races in 2018.
Coates Hire Supercars Melbourne 400 Provisional Schedule (all times AEDT)
Start
End
Session
 
Thursday
1250
1320
Practice 1
1440
1510
Practice 2
1620
1630
Qualifying 1
Sets grid of Race 1
1640
1650
Qualifying 2
Sets grid of Race 2
Friday
1350
1400
Qualifying 3
Sets grid of Race 3
1410
1420
Qualifying 4
Sets grid of Race 4
1750
1850
Race 1
25 laps/132km w/ CPS for tyre change and fuel
Saturday
1240
1310
Race 2
13 laps/69km
1820
1920
Race 3
25 laps/132km w/ CPS for tyre change and fuel
Sunday
1345
1415
Race 4
13 laps/69km