Aston Martin set for 2019 Bathurst 12Hr return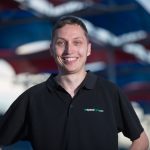 Aston Martin has revealed plans for a two-car factory supported effort at next year's Liqui-Moly Bathurst 12 Hour.
The British manufacturer is set to send two examples of its brand new Prodrive (UK)-built Vantage GT3 to Mount Panorama next February, which will be run by customer teams.
Plans to develop a GT3 derivative of its striking new Vantage GTE car has triggered moves for another crack at trying to conquer the Bathurst 12 Hour having been absent from this year's race.
The marque's best finish at the race remains a third place achieved by Craft Bamboo Racing in 2015.
Prodrive chairman David Richards has confirmed the brand's plans while visiting Bathurst last weekend.
The company operates Aston Martin's factory racing programs, highlighted by its GTE squad in the FIA World Endurance Championship.
The new GT3 machine is set to be completed by September and homologated in time for next year's Bathurst 12 Hour.
"We (Prodrive) run all of Aston Martin's racing programs worldwide and we will have a new GT3 car later this year," Richards told Speedcafe.com.
"I do know that there is a plan to come to Bathurst next year with a couple of cars. It is a good excuse to come back.
"We are just developing the GTE car at the moment which will be ready for the world championship races at Spa and Le Mans.
"The GT3 derivative of that will be ready in August/September this year and we will have 10 of them built by next season.
"We (Prodrive) tend not to do anything other than the world championship.
"We use our support teams to run in other championships but we will support them with engineers and some of our drivers.
"The current GT3 car is still competitive, but the new car is going to be a completely new kettle of fish altogether.
"Bathurst is becoming 'a must do'. It is one of the most iconic circuits in the world. It is perfectly suited to a GT race."
GT racing aside, Richards continues to follow Supercars closely having once been involved with the Tickford Racing squad under its former Ford Performance Racing guise.
"I follow it all the time. I keep close touch with what they are doing and they (Tickford Racing) have a got a very exciting season ahead of them now with a great driver line up," he added.
"We haven't had any involvement for a few years but we are there if they need any help, but it is run completely by Rod (Nash) and Tim (Edwards)."