Software glitch costs Craft Bamboo B12Hr podium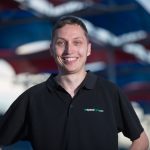 A software miscalculation cost Craft Bamboo Racing a podium finish at the Liqui-Moly Bathurst 12 Hour.
The #991 Porsche driven by Earl Bamber, Laurens Vanthoor and Kevin Estre were on course to finish third, only for the entry to receive a 30 second post-race penalty for exceeding the maximum driver time with one of its pilots.
According to the regulations, the maximum time a driver can run during the event for a three driver team is 280 minutes.
Team manager Darryl O'Young believes a glitch in the software package it uses to calculate driving time saw Vanthoor exceed the margin by two minutes.
As a result, the entry finished fifth in the results which were backdated after the race was declared following a huge multi-car crash in the closing stages.
The outcome was a body blow for the team who felt they were on target to challenge for victory having elected to adopt a fuel save program throughout the race.
"We would have made it," said O'Young, when asked by Speedcafe.com.
"We would have lost the win anyway way because we had a software issue.
"Our strategy software ended up calculating two minutes over Laurens' (Vanthoor) driving time.
"Really at the end we had a shot for the win because we had a fuel save stint for Earl (Bamber) and he just did an amazing job keeping the feel numbers down while maintaining a pace.
"We would have made it to the finish and we were quite confident our competitors would have to stop fuel.
"Obviously we are disappointed as a team and we put up a great fight and had a great car.
"We chose to go fuel save and that would have been the difference.
"It is hard to do that because you want to race and fight, but we knew we could do the numbers."
Race winners Audi Sport Team WRT and the second-placed SunEnergy1 Mercedes-AMG were unlikely to make it on fuel and were saved by the red flag.
"Jamie (Whincup) and I were saving a lot of fuel," said lead WRT driver Robin Frijns.
"I had a gap to [Whincup] of about three or four seconds, and I was trying to keep it. I was pushing, but I was trying to save as much fuel as I could.
"I don't think we would have made it if it was full-on green, so we were hoping for a Safety Car. Eventually the Safety Car came."
After being forced to pull out of last year's race at the last minute, Craft Bamboo Racing plans to return for the 2019 edition with a possible two car effort.