Larkham returns as Supercars TV pit lane reporter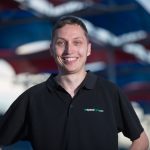 Popular motorsport pundit Mark Larkham will rejoin the Supercars broadcast team as a pit lane reporter and technical expert.
Predicted by Speedcafe.com last year, Supercars has today confirmed that the former driver and team owner will rejoin the TV trackside team in primarily an analytical role aimed to dissect key aspects of the racing for viewers.
The appointment sees Larkham effectively replace the outgoing Greg Rust, who left the position at the end of last season.
He will work alongside fellow pit lane reporters Greg Murphy and Riana Crehan.
A prominent and likeable figure among fans, Larkham has been Network Ten's expert analyst since the championship's broadcast rights switched from Seven to a split deal with Fox Sports and Ten in 2015.
This season Larkham will be integral within the race broadcast team on Fox Sports and Ten across the season.
"Whilst the last few years have been a fantastic journey of learning, creativity, and contributing to the Supercars telecast from a different perspective, I'm now genuinely looking forward to working in the race telecast," said Larkham.
"In particular, interacting with my many long-time friends and peers in the pitlane and in the broadcast production, but most of all with the fans with whom I get great personal joy in attempting to break down our often complex, misunderstood and highly technical sport.
"So along with a bit of fun, making some blunders, occasionally burning my fingers and getting lambasted, I'll be doing my best to bring an added dimension to an existing excellent team with a mix of analysis, graphics, tools and dynamics, along with a bit of show and tell."
Supercars General Manager of Media and Content Nathan Prendergast added: "'Larko' is an icon of motorsport commentary and a hugely popular figure with drivers, race teams, fans and the viewers.
"His ability to articulate in-race strategy on the run, highly complex technical aspects and describe what race teams and race drivers are thinking to a broad audience in everyday terms is his great strength.
"It is wonderful to have him back in pit lane."
The Supercars commentary team will continue to be anchored by Neil Crompton and Mark Skaife.
Jess Yates, Russell Ingall and Skaife will present the Fox Sports broadcast while Matthew White will head up the Ten team.
The 2018 Supercars season begins with the Adelaide 500 from March 1-4.