Injured Winslow eyeing Le Mans 24H return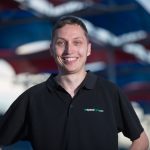 Sportscar driver James Winslow is fighting to return to full fitness for the Le Mans 24 Hours following a horror shunt at the Gulf 12 Hours that has left him with fractures to his spine.
The two-time Australian Formula 3 title winner is facing a likely six months on the sidelines after surviving a mammoth crash while competing at the Yas Marina Grand Prix, Abu Dhabi in December.
Winslow slammed into the barriers at 180kp/h at a force of 41G when his GRAFF Ligier LMP3 prototype, that won the previous year's race, suffered a rear brake failure.
The Australian-based Brit sustained fractures to his spine, a fractured sternum and a broken wrist alongside a concussion, internal bleeding and damage to his spleen.
After initially receiving treatment in an Abu Dhabi hospital for seven days following the crash, Winslow has since returned to his Sydney home to continue his recovery.
Last week a visit to a back specialist revealed a further fracture to his spine on top of the two breaks originally diagnosed.
Eager to return to the wheel Winslow, who is expected to make a full recovery, has set himself an ambitious target of returning to the track at the Le Mans 24 Hours in June, for what would be his fourth attempt.
Fitted with a full body brace, the reigning FRD LMP3 champion is making progress with physiotherapy sessions underway with a leading NRL physio.
"I definitely wouldn't have survived without a HANS device and when it happened I thought 100 percent I would be dead," Winslow reflected on the incident to Speedcafe.com.
"The doctors say I should make a 100 percent recovery which is fantastic and Le Mans is my target.
"I've just started rehab and I'm starting to do stomach exercises to try and strengthen up.
"The specialist has been fantastic so far.
"The doctors tell you nine to 12 months for a recovery but you have to treat these injuries as individual cases.
"Le Mans is the goal and I'm 99 percent sure I will make it."
Unable to fulfil his Asian Le Mans Series duties and continue his driver coaching job due to the injuries sustained, and without health insurance, a crowd funding page has been set up to help Winslow pay spiralling medical fees.
More than $35,000 has been raised in nine days to assist his recovery with donations coming from the drivers competing in IndyCar, the FIA World Endurance Championship and the Asian Le Mans Series.
VIDEO: James Winslow Abu Dhabi crash