Prodrive confirms Tickford Racing name change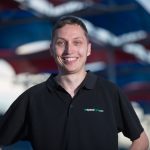 Prodrive Racing Australia will be known as Tickford Racing next season following the completion of an expected brand change.
The Melbourne team has today confirmed its new look, previously reported by Speedcafe.com, with the release of the squad's new logo which will come into use in 2018.
The Tickford Racing moniker has been introduced to more closely align the racing team with its Tickford vehicle personalisation and performance business, which produces bespoke components for Mustang, Ranger and Everest Ford models.
It is the team's third label having abandoned it's Ford Performance Racing name for Prodrive Racing Australia in 2015.
"We've been considering the possibility of changing the team's name for some time and I am pleased to announce that we'll take on the Tickford Racing name for 2018 and beyond," said team co-owner Rod Nash.
"The change creates a strong overall link between our rapidly growing performance road car business and our racing division. The new logo provides a very obvious brand identity for Tickford both on the race track and on the road.
"We were conscious of how another name change might be perceived by our fans and members given all the success we've had under the PRA banner with championships in the main game and Super2 plus Bathurst success."
Renaming the Supercars squad Tickford Racing would return the English brand to Supercars.
Glenn Seton Racing ran as Ford Tickford Racing from 1999-2001, competing with semi-factory backing as the Supercars offshoot of Broadmeadows' then HSV rival, Tickford Vehicle Engineering.
The new Tickford Racing identity will carry over the results of its Ford Performance Racing/Prodrive Racing (Australia) derived history.
Tickford Racing will field four FGX Falcons for Mark Winterbottom, Chaz Mostert, Cameron Waters and new signing Richie Stanaway next year.
VIDEO: Tickford announcement