Mostert heads BMW Bathurst 12 Hour line-up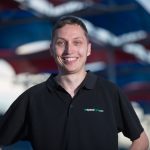 Chaz Mostert will spearhead the famous BMW Schnitzer Motorsport team at next February's Liqui-Moly Bathurst 12 Hour.
The Prodrive Supercars ace has been selected by the German marque to pilot an M6 GT3 alongside fellow BMW factory drivers Marco Wittmann (two-time DTM champion) and Brazilian touring car and GT star Augusto Farfus.
Mostert caught the eye of BMW while driving a privateer M6 GT3 at this year's Bathurst 12 Hour, which saw the Queenslander briefly lead the race.
His performance has since resulted in further outings for the manufacturer in the Asian Le Mans Series and the FIA GT World Cup in Macau with AAI Motorsports.
The 2014 Bathurst 1000 winner says it is an honour to be selected by BMW for its 12 Hour attack.
The marque will also be represented by a BMW Team SRM M6 GT3 to be driven by team owner Steven Richards, Timo Glock and Philipp Eng.
"I'm pumped to be heading back to the Bathurst 12 Hour and to be back in a BMW M6 GT3," said Mostert.
"To be doing it with such an iconic team and with a driver line-up that strong is incredible.
"It's a real honour, because I know that there are top level GT drivers all over the world doing their best to get on the Bathurst grid.
"I worked hard to get some more GT miles in my schedule this year, so hopefully that will be a bit of a leg-up for Bathurst too.
"These endurance events aren't about being the quickest car out of the gate, it's about us doing a solid job as a team, having the car prepped as well as possible, and settling on a set-up that will look after the tyres and brakes.
"It's a bit like the Bathurst 1000; there are 99 things that can go wrong to every one that goes right.
"We're looking forward to having a red hot crack. It'll be awesome to try and get that trophy for BMW."
The line-up represents a strong combination for outright race victory following an impressive Mount Panorama debut from Wittmann in February, although the event will be Farfus' first experience of the circuit.
"It is an honour for me to drive in Bathurst. It will be my first participation in the Bathurst 12 Hour, and my second time in Australia," said Farfus.
"As I heard from many drivers, Bathurst is one of the coolest circuits in the world, so it will be a nice and big challenge for me.
"With Marco and Chaz in the car we have a really strong line-up, so I am really looking forward to it.
"I think that the track might suit our car, last year the BMW M6 GT3 had a strong pace there. Overall, I can't wait to get there."
Farfus is not the only debutant in the BMW line-up with Austrian star Eng having never visited Australia prior to the race.
"It will not only be my debut at the Bathurst 12 Hour, but also my first time ever in Australia," said Eng.
"It has always been my wish to go there and in addition I think that every race driver has to drive in Bathurst at least once.
"I am more than delighted that I will do so now with BMW and with this line-up.
"It has always been my dream to compete at Bathurst and I already did a billion laps on this circuit in the simulator, just because it is so much fun. It is great that I now can put a real tyre on the asphalt there.
"I think that with the car, the team, and my strong teammates we have all the required ingredients to be successful."
Bathurst 12 Hour organisers revealed a 60 car provisional entry list for the February 2-4 event, which will feature four BMW M4 GT4s in Class C.