Bentley reveals Bathurst 12 Hour drivers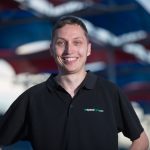 Bentley Motorsport has announced its driver roster for the 2018 season which will begin at the Liqui-Moly Bathurst 12 Hour.
The British team has retained five of its six factory drivers from this year with talented French young gun Jules Gounon recruited to replace the outgoing Olly Jarvis.
Gounon, who won the Spa 24 Hours and ADAC GT Masters title this year, will join existing drivers Guy Smith, Steven Kane, Andy Soucek, Vincent Abril and Maxime Soulet.
The group will contest the Blancpain GT Series Endurance Cup alongside a two car attack in the Intercontinental GT Challenge, which commences at Bathurst from February 2-4.
The M-Sport run team is yet to confirm its exact driver combinations for next season.
Bentley veterans Smith and Kane have previously driven together, while Spain's Soucek raced alongside Soulet and Abril.
"Consistency is key for endurance racing so to have five of our drivers back to continue their long-standing relationships with us allows us to get stronger year-on-year and is testament to the loyalty within our team," said Bentley's Director of Motorsport, Brian Gush.
"Jules (Gounon) has shown that he has the pace and maturity to fit in to a leading team.
"Despite only being 22 years old, and we're looking forward to supporting him as he develops his career. We're all looking forward to arriving in Bathurst in February and getting 2018 underway."
Bentley returns to the Bathurst 12 Hour for a fourth tilt having finished third in each of the last two outings.
The marque will field two of its first generation Continental GT3s at Mount Panorama for what will likely be the car's final race.
A new Continental GT3 is set to be homologated in time for the Blanpain GT Series opener at Monza in April.
Bathurst 12 Hour organisers have revealed a 60 car provisional entry list for next year's race.