Prodrive in no rush to replace Falcon after 2018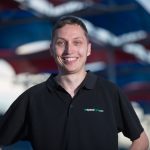 Prodrive Racing Australia may stick with its tried and tested Falcon FGX until at least the end of the 2019 season as it continues to ponder a future switch to an alternative model.
The Melbourne squad has committed to running the Falcon FGX next season having spent part of this year evaluating possible replacements for the car, which is no longer in production in Australia.
The possibility of developing a Ford Mustang for 2018 had emerged with Prodrive and fellow blue oval outfit DJR Team Penske collaborating on feasibility studies for the project, before electing to stick with the Falcon.
Such an undertaking would require approval from Ford, who withdrew manufacturer support from Supercars at the end of 2015, and a substantial amount of time to homologate and develop the car.
While admitting that its plans for 2019 are a long way off, Prodrive boss Tim Edwards believes there is plenty of life left in the FGX and is in no rush to switch models.
The FGX has proved to be a successful race car having helped Mark Winterbottom to the championship in 2015, while Shell V-Power Racing took out this year's teams' title with 12 victories between Scott McLaughlin and Fabian Coulthard.
"When after the Falcon is, is yet to be determined," Edwards told Speedcafe.com.
"We will be racing the Falcon again in 2018 and it may well be that we will race it again in 2019.
"We are only going into our fourth season with that car and we ran its predecessor the FG for five years.
"It is not like the FGX is an uncompetitive car, and if you were just putting your performance hat on, why would we rush to change.
"At this stage we know we are racing the FGX in 2018 and 2019 is a long way off, but we may well be racing the same car then."
Looking ahead to next season Edwards is encouraged by his team's prospects following a significant development drive during the second half of the year.
Prodrive provided a genuine regular threat to Triple Eight and Shell V-Power Racing, led by Chaz Mostert and Cameron Waters, who scored three wins in the back half of the campaign.
While the team is already working on further developments for 2018, it is unsure how far the performance curve will be raised by the rest of the paddock come the season opener in Adelaide next March.
"Every year we make our cars faster and so do our competitors," he added.
"But you don't know what everyone is doing until you arrive at Adelaide. The bar gets raised every year and you don't know where it is going to be.
"We have certainly made some significant improvements to our cars over the last six months and we are working on more things to make it better again.
"I'd like to think we have got a bit of momentum going and we have definitely found some direction in a few areas of our car, and hopefully we can find more.
"It is certainly encouraging that we did have good pace and we are optimistic that will continue into the new year."
The team is understood to be building up a new chassis during the summer for Waters after selling the car he used this season to 23Red Racing.
Prodrive will boast its strongest ever driver line-up next year with Mostert, Waters and Winterbottom joined by new signing Richie Stanaway.
Stanaway will run in a fourth entry underpinned by a Racing Entitlements Contract purchased from 23Red Racing, in a transaction which is understood to have been formally approved by Supercars this week.