BJR undergoing off-season car builds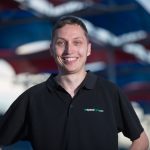 Brad Jones Racing has confirmed plans to build up new cars for two of its three Supercars entries ahead of the 2018 season.
The Albury operation is in the process of building up new chassis for Tim Slade and Nick Percat, while Tim Blanchard's car will sport new panels courtesy of a ZB Commodore upgrade.
All three cars will utilise the new ZB Commodore bodywork developed by Triple Eight, which underwent Supercars' homologation testing last week.
Slade's chassis that completed the 2017 season will now act as the operation's spare care next year.
The off-season workload for the team arrives after busy campaign for the squad, who were forced to undergo multiple car rebuilds following a spate of heavy accidents during the year.
The team is expected to receive the new ZB Commodore panels for its three cars early in January, according to team owner Brad Jones.
"We are working through that at the moment so we have got some stuff from Holden but we are still waiting for a few parts," Jones told Speedcafe.com.
"We will then be sending a truck up to Triple Eight very early in the new year and come back on January 8.
"The truck will pick up the majority of the panels which we will need to build the cars."
The team announced last week that it will switch engine providers in 2018, moving to KRE Engines after ending an eight-year relationship with Noonan Race Engineering.
KRE Engines already supply Triple Eight, Tekno Autosports and Preston Hire Racing.