Results key to Nissan Supercars future decision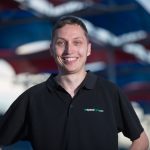 Results on track next season will go a long way in helping Nissan reach a decision regarding its future in Supercars beyond 2018, according to team manager Scott Sinclair.
The Japanese marque will enter the final year of its current commitment to Supercars in 2018 with a decision on its future motorsport projects, largely directed by global headquarters, yet to be made.
Nissan Australia's new boss Stephen Lester, installed in September, told the media in October that all aspects the program will be up for discussion before a call is made.
While Nissan Motorsport ended 2017 on a high at Newcastle, it proved to be difficult campaign for the Kelly Racing operation.
Michael Caruso was its best-placed driver, lying 13th in the championship, a step backwards from last season that saw three of the four Altimas inside the top 15 in the series standings.
The factory squad will once again field a fleet of four Altimas next season for team co-owner Rick Kelly, Caruso, Simona de Silvestro and new recruit Andre Heimgartner
Sinclair is fully aware how important the coming season will be as Nissan contemplates its future in the series.
"It is business as usual and all we can control is our results on the track," Sinclair told Speedcafe.com.
"That will obviously go a long way in helping Nissan in whatever decision they come to.
"As a team, we must not be blinded by the last event, it has been a disappointing year there is no doubt about that.
"We have got to rectify that and we have a few things we know we messed up and we have got some new personnel coming into the team.
"We are quite clear on what our weaknesses were this year and we are transparent with Nissan on that.
"We are putting plans in place to come out next year and make sure they are not weaknesses any more.
"There is no time in this championship to warm up we need to come out as strong as ever."
Adapting to the new 2017 tyres was among the squad's struggles this year and a key area of focus during the campaign, following a spate of failures.
Next season the championship will move to modified tyre which is based around the 2016 specification rubber.
While the move is seen as a boost by Sinclair, it is not a silver bullet in solving the Altima's car speed shortfall.
"We had some difficulties with the tyres and there is no doubt about that," added Sinclair.
"We had a number of failures which ultimately hurt our championship results and our confidence.
"At every track we were going to we were having to have healthy discussions about detuning the cars to look after the tyre.
"I'm glad all of that is behind us but at the same time we could have done a better job to get on top of that earlier the season but we didn't.
"As the year progressed we got a hold on it but a lot of damage was done in the early part of the year. A lot of the other teams were able to get hang of it and it wasn't an issue for them.
"Yes we are happy to be going backwards (on the tyre front) but we don't think that is going to be our saviour."
The 2018 Supercars season will begin with the Adelaide 500 from March 1-4.