Glock, Eng join Richards for BMW Bathurst 12H tilt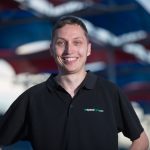 BMW factory drivers Timo Glock and Philipp Eng will join Steven Richards in a BMW Team SRM entry at the Liqui-Moly Bathurst 12 Hour next February.
Former Formula 1 driver Glock will once again drive a SRM prepared M6 GT3 after making his Bathurst 12 Hour debut this year, when he partnered Tony Longhurst, Mark Skaife and Russell Ingall in the race.
The German BMW DTM driver, who drove for Jordan, Toyota, Virgin and Marussia in F1, failed to finish following a crash after 134 laps with Ingall at the wheel.
Glock will be joined in the car by Austrian BMW ace Eng, who will be making his debut at Mount Panorama during the event from February 2-4.
The 27-year-old former Porsche Supercup champion has enjoyed success racing for BMW in the Blancpain GT Series and the ADAC GT Masters.
Glock and Eng will team up with Richards, who finished 14th alongside Marco Wittmann and Mark Winterbottom in this year's edition of the race.
Richards is feeling confident about his entry's chances after the M6 GT3 showed signs of strong pace around the 6.2km circuit earlier this year.
The car is one of two factory supported M6 GT3 entries with the driver line-up of the sister car expected to be announced before Christmas.
"From last year we knew that the car is capable of winning that race," Richards told Speedcafe.com.
"We are taking that next step with the guys that we have got in the car and we are looking forward to seeing what we can do up there.
"Having this year under our belt we have a bit better preparation and expectation as to what is possible and we can build our program around that.
"For sure there will be an element of focus on Philipp (being a debutant) but the expectation is that those guys are full pros so they know how it works.
"To be honest he has probably looked at enough tracks and has had his bum in a M6 GT3 seat on enough occasions. We found with Marco (Wittmann) last year that it didn't take him long to get up to speed.
"Timo is a great guy and what is ultra important is that all the guys fit into the team structure and I think he enjoys the Aussie way of doing things.
"The M6 does go well there and its strengths are high speed corners and there are lots of those at Bathurst. The track surface is smooth and has a lot of grip which also suits our car."
The BMW M6 GT3 is set to run in its current specification with the eagerly awaited Evo update package set to arrive from the opening round of the Australian GT Championship at Albert Park in March.
BMW Team SRM will also debut the new M4 GT4 in Class C (GT4) at the Bathurst 12 Hour for gentleman drivers Dean Grant, Xavier West and a yet to be named young gun.
A second M4 GT4 will be raced by Tony Longhurst, Aaron Seton and an unnamed third driver.
The first M4 GT4 to arrive in Australia was officially unveiled this week.