Aussie teen completes BTCC Brands Hatch test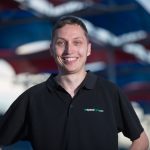 Touring car hopeful Liam Thompson has completed a test with British Touring Car Championship operation Team HARD as he assesses his options for next year.
The Gold Coast teenager has moved to the UK this year to progress his fledgling motor racing career by competing in the one make Junior Saloon Car Championship, where he finished fifth overall driving a Citroen Saxo.
Thompson joined up with the Team HARD squad at Brands Hatch last week where he piloted a Toyota Avensis BTCC car raced by Jake Hill and Michael Epps.
The 17-year-old completed 20 laps at the Kent venue in what was his first experience of front wheel drive BTCC machinery.
The outing follows just days after countryman and Supercars driver Alex Rullo joined Power Maxed Racing for a BTCC test at the circuit last month.
"The car felt great, it was fast, it had lots of grip, and it sounded great," said Thompson.
"I did around 20 laps in the tricky damp but drying conditions of this great circuit Brands Hatch, with VW Cup young gun Jamie Bond, sharing his knowledge and experience.
"As always there is lots of pressure to bring the car back with not a mark on it, go fast, show your talent and I ticked the boxes.
"I'm so grateful to Tony Gilham and Team HARD for the chance to have a go in this great car, to show I can go fast and drive with a mature head."
Thompson, who has ambitions of breaking into the BTCC in the future, is focusing his attentions on trying to land a drive in the popular Volkswagen Cup, which Team HARD also competes in.
Alongside the BTCC outing, he was offered laps in a Team HARD VW Cup car.
"While British Touring Cars are where I want to be very soon, I'm looking at VW Cup for 2018 with Team HARD," he added.
"I need Australia to get behind me so we can get into the BTCC, as there are no true International drivers in the BTCC and I think they would love an Aussie in the field."