Winterbottom, Prodrive begin new contract talks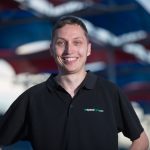 Initial talks regarding Mark Winterbottom's future at Prodrive beyond 2018 have begun as the Supercars star heads into his final year of his current deal next season.
The 2015 Supercars champion is likely to emerge as a key player in next year's silly season as a five-year deal reaches its conclusion at the end of the 2018 campaign.
Winterbottom has been a stalwart at the Melbourne Ford squad having joined the operation in 2006, which has delivered all of his 38 race wins, including a triumph at the 2013 Bathurst 1000, and a championship two years ago.
However, this season has proved a challenge as the 36-year-old ended the year winless for the first time in 12 years, while team-mates Chaz Mostert and Cameron Waters both visited the top step of the podium.
Focus will soon shift onto Winterbottom's future in the new year with the team recent confirming multi-year deals for Waters and new recruit Richie Stanaway. A new contract for Mostert expected to be announced soon.
Prodrive boss Tim Edwards says a new deal has tentatively been discussed but an agreement is yet to be reached.
"Where Frosty and this team end up is for us to work through in the fullness of time and we have had some initial conversations about it over the last few months," Edwards told Speedcafe.com.
"We just haven't got around to doing anything more than that.
"This will be the final year of his current five-year agreement so it has been along time since we have had to sit down and thrash out what the package is."
Winterbottom appears set for a fascinating intra-team battle next season as he goes up against Mostert, Waters and rising Supercars star Stanaway.
While facing a threat from a wave of young talent, Edwards believes his drivers will extract the best out of the former series champion.
"I chatted to Frosty just 10 days after Newcastle and he wants to get back in the car already," added Edwards.
"I think he is actually enjoying the youth around him.
"It is putting him under pressure but I think quite often doing that helps you get the best out of him.
"Every single driver on the grid, not just Frosty, wants to beat his team-mate and that is the number one priority, albeit in a respectful way, and in theory they have equivalent machinery.
"I am going to have four of them trying to beat each other."