Adelaide Motorsport Festival plans 2018 expansion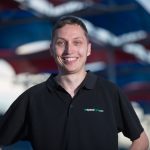 The Adelaide Motorsport Festival is planning a track extension for next year's event which it hopes will entice more international car collectors and Formula 1 stars.
Australia's answer to the Goodwood Festival of Speed continues to grow with the weekend's fourth edition attracting bumper crowds to witness the South Australian capital to celebrate all forms of motorsport.
This year's event welcomed more than 600 cars, ranging from Formula 1, touring cars and rallying to the 1.4km Victoria Park sprint circuit where they perform against the clock for spectators.
Keen to continue the festival's evolution, organisers are closing in on a track extension, which will add 600 metres to the current loop, to allow the exotic machinery to provide more of a show to fans.
The extension, which already has support from local government, will see the track follow the traditional Adelaide 500 circuit up Wakefield Street 300 metres, before a sharp hairpin turn that will send the cars back towards the existing track layout.
It should offer a longer straight for the vehicles particularly F1 cars to stretch their legs and provide more viewing areas for fans.
Event director Tim Possingham believes the longer circuit, yet to receive sign off, will enable the event to attract more exotic machinery from aboard along with international F1 drivers, who raced in Adelaide when it hosted the Australian Grand Prix from 1985-1995.
Also among the improvements for spectators is a move to open up the infield of the circuit for spectating and automotive manufacturers to conduct displays.
This year Audi, Ferrari, BMW, Mercedes, Alfa Romeo, Aston Martin, Maserati and Jaguar chose to activate at the festival.
"We have already got really good support to extend the track, which will go to about 2km long with a left turn up Wakefield Street, following the traditional track and then there is a hairpin and the cars would come back down the road and take to our normal route.
"The extension will increase the number of cars on track up to 24, which will increase entry income and offset some of the costs in extending the track.
"I'm talking to collectors and ex-Adelaide F1 drivers that will come back if there is a track extension.
"I've met with the Williams Heritage Group and Classic Team Lotus but that doesn't work so well for us.
"The way forward to get those type of cars is through private collectors."
Possingham says the event will initially retain its sprint format due to the extra infrastructure required for racing to be conducted on the track during the festival.
"Racing is a whole separate level," he added.
"The infrastructure requirements in terms of barriers systems and things like that are more complex.
"There are very few people that feel the need to race door handle to door handle.
"It will retain the sprint format at least in year one but it should entice internationals with car collections to come out.
"They have been hesitant to come out for four sessions over two days as it is a big ask. When there is eight sessions over four days on a longer track it starts to stack up for them."
The weekend's on-track action lived up to the billing as Brad Jones Racing Supercars driver Tim Slade lowered the Victoria Park sprint circuit lap record to a 43.03s, behind the wheel of a Footwork Arrows F1 car on Saturday.
The Adelaide Motorsport Festival is expected to retain its December slot next year.