Pye reflects on best ever Supercars season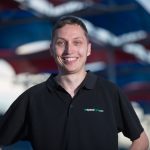 Scott Pye is heading into the new season with renewed confidence after proclaiming 2017 as his best yet in Supercars.
The Mobil 1 HSV Racing driver often overshadowed his 2010 champion team-mate James Courtney in what proved to be an immensely challenging year for the once dominant Walkinshaw team.
During a season that saw the outfit struggle for car pace and undergo a management restructure, the South Australian extracted the best from his Commodore package to finish a career best 12th in the standings.
Pye's Supercars career has been turbulent up until this point, beginning with a rollercoaster debut at Lucas Dumbrell Motorsport in 2013.
He appeared to have lost his drive at DJR Team Penske in 2015 following the arrival of Marcos Ambrose, before receiving a reprieve when the former stepped away from the team mid-season.
Months later he looked to be without a ride before DJRTP elected to move to a two car set-up for 2016, only to then lose his seat to Scott McLaughlin this year.
However, now housed in new surroundings at Walkinshaw Racing, he feels this year's performances have proved some of the critics wrong by finishing nine places ahead of his more experienced team-mate.
"At the moment I feel like I'm driving well but certainly in terms of working with everyone around me I feel like this has been my best year," Pye told Speedcafe.com.
"I feel like I really enjoyed the group of people I'm working with, so from that respect I think I'm doing a better job than I have done in the past.
"Certainly on-track, sometimes this year I've really felt dialled in and got the car up to a position where I got out and felt that I really gave 110 percent.
"It's the first time, really, I've had a team-mate that's been recognised in pit lane as a real top-line driver.
"For me as a driver, I'm coming out of the season with a lot of confidence and that's from being up against James and having the results I did.
"The inter-team rivalry was always something that everybody keeps a close eye on, especially when you have a top-line team-mate, so I hope that this year has proven a few naysayers wrong maybe."
His championship position was aided by an impressive run to second at the Supercheap Auto Bathurst 1000 alongside Warren Luff, which he recalls as the highlight of a challenging campaign.
"That was obviously a great day, I think for Luffy and myself and then everyone in the team, they were faultless all day," added Pye, who has a multi-year contract with Walkinshaws.
"I think we were quickest in the pits over the race, didn't make too many big mistakes, kept the car clean, and I think that's what got us the result."
Pye's results also arrived amid a change of ownership for the team, which will see it transform into Walkinshaw Andretti United next year, following a buy-in from IndyCar giant Andretti Autosport and British sportscar squad United Autosports.
Walkinshaw Racing hopes its new international partners will open up new pathways and ultimately arrest the operation's recent slide.
While he is not expecting an immediate turn around in performance, Pye is eagerly awaiting the outfit's fresh guidance in 2018.
"Obviously there have been some big changes that I think have allowed us now to have a very attractive package going into 2018," he said.
"I know everyone really well, so going into next year already that's a better position to be in.
"We've also got a lot of new things coming onboard with the combined power of our new partners, so from the team's point of view, we're going to be in a better position.
"We know it's not going to be an overnight fix and we've seen that in the past that it does take time, but certainly we're in a better position than I've experienced before at this point."